Capcom will align content updates for PC and console players of Monster Hunter World
Plus title updates for PC kick off next month.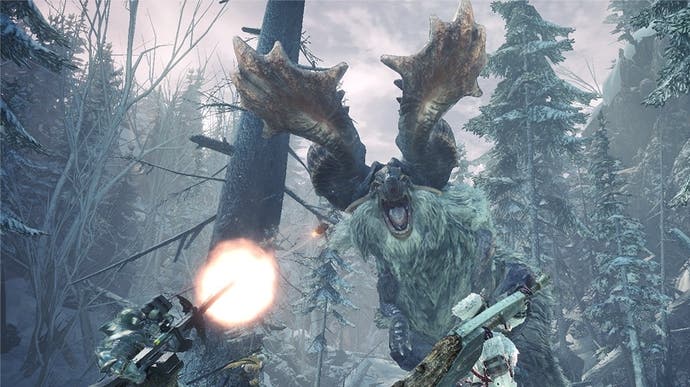 Capcom has released a roadmap for Monster Hunter World: Iceborne and confirmed content updates for both console and PC "will sync" from April 2020.
Before that, however, PC players will start to see Iceborne updates from February, and the "free content will include challenging monsters for players to conquer, expanded gameplay features, limited-time events and more", including "fan-favourite" monster Rajang and a new Volcanic Region. The latter is coming to the end-game Guilding Lands and will be accessible once players commence their battles against Rajang.
A couple of familiar faces are set to pop up, too, as Resident Evil characters Leon, Claire, and Tyrant will "pay a visit to Iceborne" for a limited time Monster Hunter/RE crossover. Hunters will be able to acquire materials necessary to craft Leon and Claire scenario A armour sets, as well as "Raccoon City-themed pendants to spruce up their favourite weapons".
The first title update also heralds the ability to show off your room with other players - although be warned, some room furnishing options are restricted to paying DLC customers only - as well as limited-time quests that provide the necessary materials to forge the Hunter Weapon and Palico armour and weapon sets from the winner of the Iceborne design contest.
While we're on the subject of the PC version, from 12th March the second PC title update will roll out, bringing Stygian Zinogre, "a more vicious subspecies of the electrifying fan-favourite Zinogre, that harnesses dragon elemental damage". A new Tundra Region will also expand Guiding Lands, featuring monsters such as Barioth and Viper Tobi-Kadachi. "Hardened PC hunters will also be able to attempt the challenging Safi'jiiva Siege to earn an arsenal of new Awakened weapons and craft powerful armour sets," Capcom said.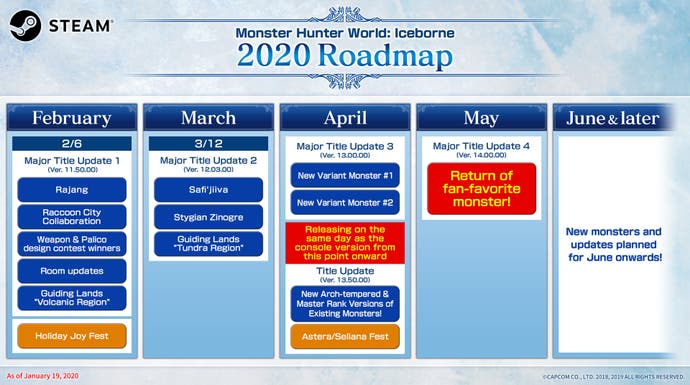 As for console players? From February until the end of March, players will receive new limited-time event quests that" increase the odds of encountering gold crown monsters, decorations, and Great Spiritvein Gems while maximizing their rank". A "major title update" will also bring two additional variant monsters to Iceborne for console players in March - PC players will get the update in April.
As it's around here console and PC updates will "sync", so ew Arch-Tempered and Master Rank versions of existing monsters will be available at the same time for both PC and console players, followed by the return of an unspecified "fan-favourite" monster in May. There's also more synced updates and additional monsters planned for June and beyond, too, but we have to watch this space for more details about those.
Capcom also indicated a number of in-game events for both the vanilla release and Iceborne will roll out around the game's second anniversary at the end of January, including the Grand Appreciation Fest for Iceborne players and the Appreciation Fest in the Astera Gathering Hub for all players. In February, PC players will also get a Holiday Joy Fest, too.
Last week the long-awaited arrival of Monster Hunter World's Iceborne expansion on PC finally dropped, but players soon began to report significant performance issues following Iceborne's installation, and, more troublingly, missing save games. Ouch.