CandySwipe dev: King "taking the food out of my family's mouth"
"Good for you, you win."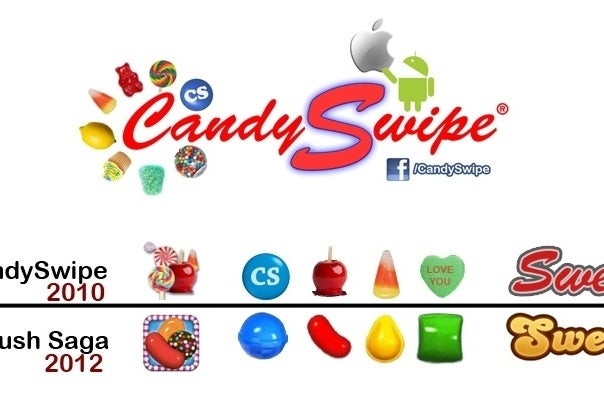 The creator of CandySwipe has accused King, the creator of Candy Crush Saga, of "taking the food out of my family's mouth" over a trademark dispute.
On the CandySwipe website Runsome Apps Inc founder Albert Ransom published an open letter to King, which was recently heavily-criticised for attempting to secure the trademark for the words "candy" and "saga". In the letter, Ransom accused King of double standards. CandySwipe launched in 2010, two years before Candy Crush Saga, and Ransom pointed out the similarities between the two.
"Two years after I released CandySwipe, you released Candy Crush Saga on mobile; the app icon, candy pieces, and even the rewarding, 'Sweet!' are nearly identical," he wrote.
"So much so, that I have hundreds of instances of actual confusion from users who think CandySwipe is Candy Crush Saga, or that CandySwipe is a Candy Crush Saga knockoff."
Ransom said he opposed King's attempt to register the "candy" trademark for "likelihood of confusion". Now, it appears King wants to cancel his CandySwipe trademark. If King is successful, Ransom won't have the right to use the name of his game.
"You are able to do this because only within the last month you purchased the rights to a game named Candy Crusher (which is nothing like CandySwipe or even Candy Crush Saga)," he said. "Good for you, you win. I hope you're happy taking the food out of my family's mouth when CandySwipe clearly existed well before Candy Crush Saga.
"I have spent over three years working on this game as an independent app developer. I learned how to code on my own after my mother passed and CandySwipe was my first and most successful game; it's my livelihood, and you are now attempting to take that away from me.
"You have taken away the possibility of CandySwipe blossoming into what it has the potential of becoming. I have been quiet, not to exploit the situation, hoping that both sides could agree on a peaceful resolution. However, your move to buy a trademark for the sole purpose of getting away with infringing on the CandySwipe trademark and goodwill just sickens me."
King refused to comment directly on the allegations when contacted by Eurogamer this morning, but did point us to King boss Riccardo Zacconi's recent open letter on the company's approach to IP protection. In it he said: "At its simplest, our policy is to protect our IP and to also respect the IP of others.
"We believe in a thriving game development community, and believe that good game developers - both small and large - have every right to protect the hard work they do and the games they create," Zacconi continued.
"Like any responsible company, we take appropriate steps to protect our IP, including our look-and-feel and trademarks. Our goals are simple: to ensure that our employees' hard work is not simply copied elsewhere, that we avoid player confusion and that the integrity of our brands remains."
Ransom claimed his situation "contradicts" the open letter. "I myself was only trying to protect my hard work."
What appears to have happened is King has filed a counter legal filing to Ransom's opposition to King's "candy" trademark in the US. It claims the open letter is inaccurate in saying King is seeking to cancel the CandySwipe trademark.
The situation sounds similar to the one that saw Stoic Studios' The Banner Saga targeted by King's lawyers in a list of potentially misleading titles. King insisted it had no intention to actually pursue legal action against Stoic. Rather, it was using its Banner Saga scare as an intimidation tactic to teach other actual clones to not even try.
"In this case, that means preserving our ability to enforce our rights in cases where other developers may try to use the Saga mark in a way which infringes our IP rights and causes player confusion," King told Eurogamer in a statement.
"If we had not opposed Banner Saga's trade mark application, it would be much easier for real copy cats to argue that their use of 'Saga' was legitimate.
"This is an important issue for King because we already have a series of games where 'Saga' is key to the brand which our players associate with a King game; Candy Crush Saga, Bubble Witch Saga, Pet Rescue Saga, Farm Heroes Saga and so on. All of these titles have already faced substantive trademark and copyright issues with clones."
This isn't the first time King has been accused of cloning a game, either. Last month it was alleged King had knowingly cloned the game Scamperghost with Pac-Avoid. In his open letter Zacconi said it should never have published the game, removed it from its website and apologised.
"Let me be clear: This unfortunate situation is an exception to the rule. King does not clone games, and we do not want anyone cloning our games."