BioShock Infinite: Burial at Sea Ep 2 footage teased
Devs show off their favourite bits to work on.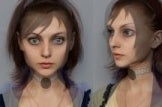 Irrational team members old and new have pitched in to show off the bits they made in BioShock Infinite: Burial at Sea Episode 2.
The video below sees animators, artists and writers discussing their favourite parts of the DLC that they helped create - it's part of the #IrrationalJobs movement that is aiming to find new work for all of Irrational's employees now that the studio is closing.
Watch out for team members who've been part of the franchise since BioShock 1, but also newer hires such as former BioWare scribe John Dombrow, who scripted the Genophage arc in Mass Effect 3.
Fair warning - naturally, there are some light spoilers below. The footage mostly shows off some of the add-on's environments, but those particularly averse to spoilers should perhaps wait until the DLC releases.
Burial at Sea Episode 2 is due to launch on 25th March and tie up the stories of BioShock Infinite, Burial at Sea Episode 1 and even narrative strands from BioShock 1.