Beyond Good and Evil 2 gameplay shown for first time
Propaganda.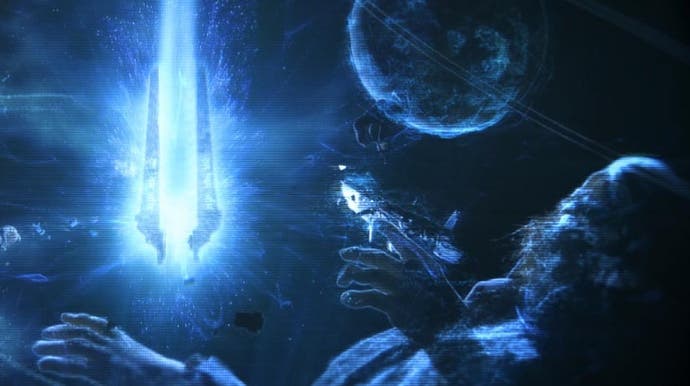 Fans got a first glimpse at Beyond Good and Evil 2 gameplay last night in a developer livestream filled with information about the work-in-progress game.
The footage shows multiplayer spaceship combat, on-foot melee fighting and sweary monkey shipmate Knox in action.
It was the highlight of a half hour Twitch stream which featured creator Michel Ancel and others discussing the game and its development.
Here's the footage first, and then we'll break down what else was revealed below:
Chief among the reveals was confirmation that you will play as your own custom character, rather than a specific individual within the BG&E universe. This makes sense, considering the fact you can team up with other pirates and play as your characters together.
Exploration will be a key focus as you search for the best crew of pirates to staff your ship, each with individual focuses such as being a medic or engineer.
The camera gameplay from the original Beyond Good & Evil will also return - although you'll now be using a more piratey spyglass device to snap photos and scan objects for more information.
Story-wise, the game will include new information on BG&E's Jade, the evil DomZ and the creation of the human-animal hybrids. There was also teasing of a mysterious space gate-like object - Moshka's Door - which was originally designed for BGE&1.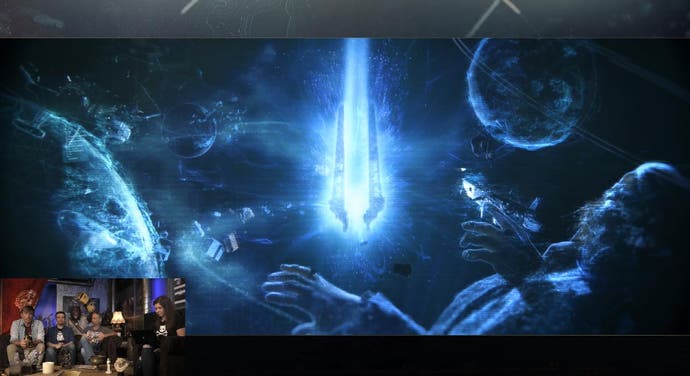 A timeline of events prior to the game was also shown off, detailing Earth's progress through a Golden Age of technology (2040) and subsequent crisis as AI revolted (2063), to the first talking hybrids made as slave manpower (2086) and humanity's subsequent move away from Earth to other solar systems (2108).
Ganesha City, shown off in last year's E3 reveal, was founded in 2225, a period of peace which lasted until a giant massacre in 2314 which led to a Golden Age of space piracy, around 2360. It was after this which Jade was born, and after that - although before the events of the original game - that BG&E2 takes place.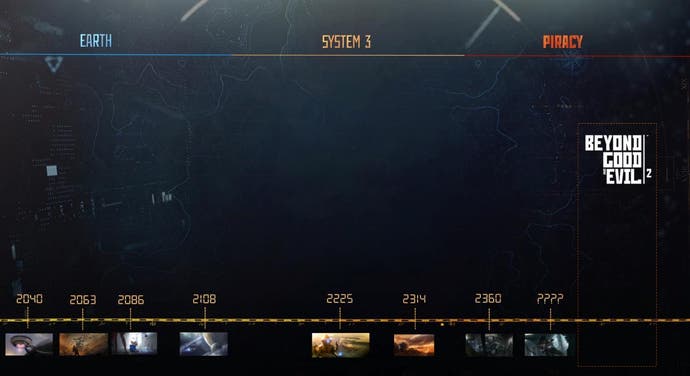 More information was promised for E3, where hopefully we'll be able to go hands-on with the game. It sounds, at least, like development is really kicking into gear. Ubisoft Montpellier staffed up last month so that 120 people are now working on the project there, with additional support from with other Ubisoft studios in Sofia, Barcelona and Bordeaux joining too.