There's a Fallout and Skyrim concert for War Child UK
Get tickets before they ar-gonian.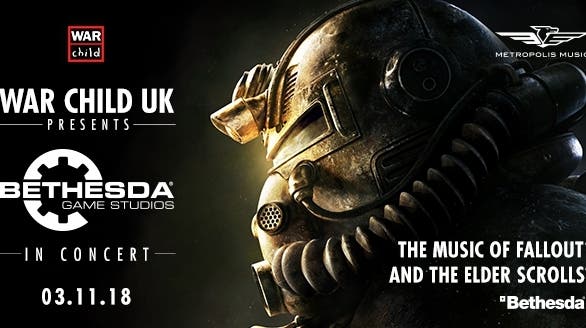 Is there anything more spine-tingling than loading up Skyrim to hear those ominous chants? Now imagine that with a live choir, in London's Hammersmith Apollo, all in the name of charity. Oh - and with some epic Fallout music thrown into the mix too.
Bethesda is supporting War Child UK to put on a live performance of its biggest musical hits. This includes tunes from Fallout 3, Fallout 4, The Elder Scrolls V: Skyrim, and even the mysterious upcoming game Fallout 76. Personally, I can't wait to hear a preview of the soundtrack to which nukes will be dropping on my head.
The concert is due to take place on Saturday 3rd November at the London Eventim Apollo in Hammersmith. The music of composers Inon Zur and Jeremy Soule will be performed by the Parallax Orchestra and Choir, who are not new to more unusual classical concerts, having previously performed Bring Me The Horizon at the Royal Albert Hall.
Possibly the best thing about the concert, however, is that all proceeds are going to charity. War Child UK is an organisation which seeks "to protect, educate and stand up for the rights of children caught up in war" - an incredible cause, and a charity the Fallout universe could sorely do with.
So, how do you get tickets to this Bethesda bonanza?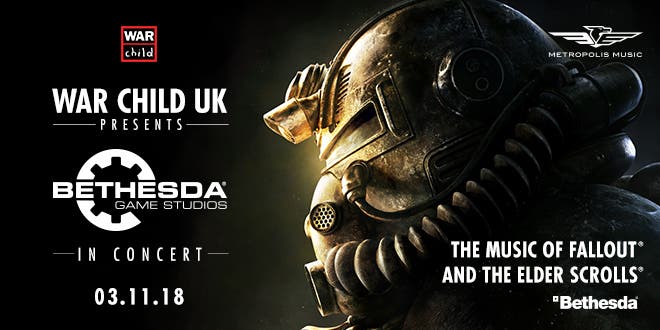 You'll have to be hot off the mark - tickets will become available tomorrow at 9am on Metropolis Music's website. The starting price is £45, with two tiers of VIP tickets also available which give the holders access to exclusive seats, merchandise, a signed Fallout 76 score page, and even a post-show meet and greet with Fallout composer Inon Zur.
If you can't make it to London, you can still join in on the Bethesda charity goodness, as the company also unveiled a cover of John Denver's 'Country Roads' back in July. All the proceeds for that are going to Habitat for Humanity - a charity which helps disadvantaged people around the world to build stable communities. Nice job Bethesda!