Battlefield 3 still behind Call of Duty on XBL chart
More people played Black Ops and MW2 last week.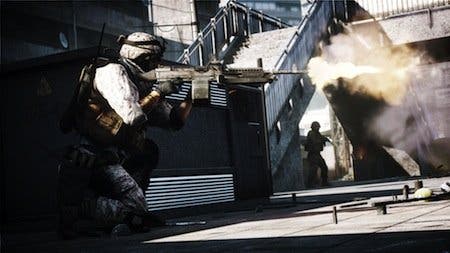 Battlefield 3 has failed to knock Call of Duty from its perch on top of the weekly Xbox Live activity chart.
EA's pretender debuted in third place behind both Modern Warfare 2 and Black Ops. Gears of War 3 came in fourth and FIFA 12 in fifth.
Here's the full global unique user chart, as seen on Major Nelson's blog:
Call of Duty: Black Ops
Modern Warfare 2
Battlefield 3
Gears of War 3
FIFA 12
Halo: Reach
Batman: Arkham City
Madden NFL 12
Forza Motorsport 4
GTA IV
Call of Duty 4
NBA 2K12
FIFA Soccer 11
NHL12
Halo 3
Battlefield: Bad Co. 2
Call of Duty: WaW
NCAA Football 12
Dead Island
Red Dead Redemption
Over on the Xbox Live Arcade sales chart, Dungeon Defenders took the top spot, with new entry Daytona USA crossing the finish line in second place. Here's how everything else lined up:
Dungeon Defenders
Daytona USA
Pinball FX2
Real Stell
Dead Rising 2: Case West
Dead Rising 2: Case Zero
Zombie Apocalypse: Never Die Alone
Bejeweled 3
NBA Jam: On Fire Edition
Fruit Ninja Kinect
Castle Crashers
Guardian Heroes
Orcs Must Die!
Toy Soldiers: Cold War
Trials HD
The War of the Worlds
Castlevania: Symphony of the Night
Magic: The Gathering - Duels of the Planeswalkers 2012
Worms: Ultimate Mayhem
Mortal Kombat Arcade Kollection