Avengers, Doom and COD: Modern Warfare all playable at EGX this year
London calling.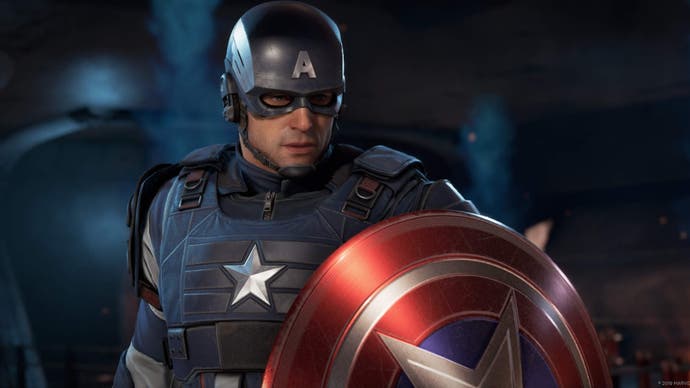 Hello! Normally we'd all be over our EGX hangovers and recovering from our show bugs around now, but thanks to the UK's biggest gaming expo's move from Birmingham to London and from September to October, it's still two weeks away. Feels weird, man.
(Disclaimer: EGX is run by our parent company, Gamer Network. And it used to be called the Eurogamer Expo. So, you know, we're biased.)
Anyway, the announcements of playable games are starting to pop up, and leading the pack so far is the first UK hands-on for Marvel's Avengers, Crystal Dynamics' take on the ubiquitous superhero team. Virgin Media will be hosting the Square Enix game on its stand, along with costumes and props, and there'll be an appearance from studio head Scot Amos in the EGX Theatre. Marvel's Avengers is out on 15th May 2020.
Bethesda is bringing Doom Eternal, the incoming sequel to the brilliant 2016 reboot of the iconic first-person shooter. As well as hands-on demos on Bethesda's stand, there'll be a silly, fun Doom panel session hosted by friend of Eurogamer and "self-confessed video games idiot" Simon Miller on the Friday at 6pm and a community quiz at noon on the Saturday, both in the EGX Theatre.
Hot off the press: PlayStation's stand will have Call of Duty: Modern Warfare playable, with several other very exciting games to be announced soon - watch this space. Nioh 2, sequel to the formidable Team Ninja samurai combat game, will be worth tracking down there - and although it won't be playable, the Death Stranding Experience is sure to be... an experience.
What else? Nintendo's stand will have Pokémon Sword & Shield and Luigi's Mansion 3 playable, as well as the Splatoon 2 UK Championship.
Of course, notwithstanding the move from Birmingham's NEC to London's ExCeL, EGX will have the full, familiar line-up of attractions this year: the massive Rezzed Zone for indies, the Leftfield Collection for the truly weirdest and wildest creations, esports in the EGX Arena, meet & greets (including with the Eurogamer video team) and panels and talks in the Fringe Theatre, Rezzed Sessions and EGX Theatre. As well as Doom and Avengers, EGX Theatre sessions include a talk from the developers of the Battletoads reboot and Digital Foundry on how to build a next-gen console spec PC.
EGX runs from 17th to 20th October at the ExCeL in London's Docklands. The full guide to what's on can be found over at the EGX website. Tickets are available for all days, too.