Assassin's Creed 4: Black Flag season pass and DLC announced
UPDATE: Wii U version not getting any DLC.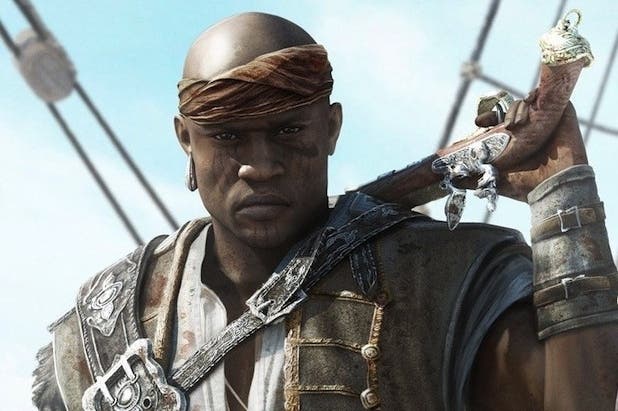 UPDATE: The Wii U version of Assassin's Creed 4: Black Flag will not be getting any DLC.
This confirmation was given by an Ubisoft rep to Gamereactor. We've contacted Ubisoft to get a response as to why it's neglecting Nintendo's console here, but it doesn't take a rocket scientist to figure out that the publisher's likely feeling skittish after the Wii U's poor sales.
ORIGINAL STORY: Ubisoft has revealed its plans for Assassin's Creed 4: Black Flag's post-release content with the announcement of a season pass and a DLC campaign.
The highlight of the season pass will be nine-mission self-contained story entitled Freedom City, in which you play as protagonist Edward Kenway's first mate Adewale. Allegedly containing three hours of single-player content, the campaign will star a shipwrecked Adewale in Saint-Domingue as he rescues slaves and seeks vengeance upon his former captors. Get a glimpse of Freedom City in its trailer below.
Furthermore, the season pass will unlock additional single-player missions, weapons, skins, and collectibles, as well as more multiplayer characters and exclusive customisation options for your ship, the Jackdaw, via the Kraken Ship Pack.
While no price has been announced, the season pass will save players 20 per cent off purchasing all of its content individually. All of Black Flag's season pass DLC is due before March on PS3, PS4, Xbox One, Xbox 360 and PC.
Curiously, the season pass has not been announced for Wii U and it's unclear if the DLC will be coming to Nintendo's platform at all. We're looking into it.
Elsewhere, if you want to see what Assassin's Creed: Liberation's protagonist Aveline looks like in Black Flag, Sony has released a trailer showing off footage of her in the hour of PS3/PS4-exclusive content it's boasting.