Backyard Wrestling signs musicians
Well, I say "musicians"…
Eidos has proudly announced that Insane Clown Posse will be providing music for their forthcoming PS2 and Xbox brawler Backyard Wrestling. Insane Clown Posse's lead singers "Violent J" and "Shaggy 2 Dope" will also be secret characters in the game, which is starting to sound more like EA's Def Jam Vendetta every day. That said, the latter is actually very good, so they might want to steer clear unless BYW is up to scratch.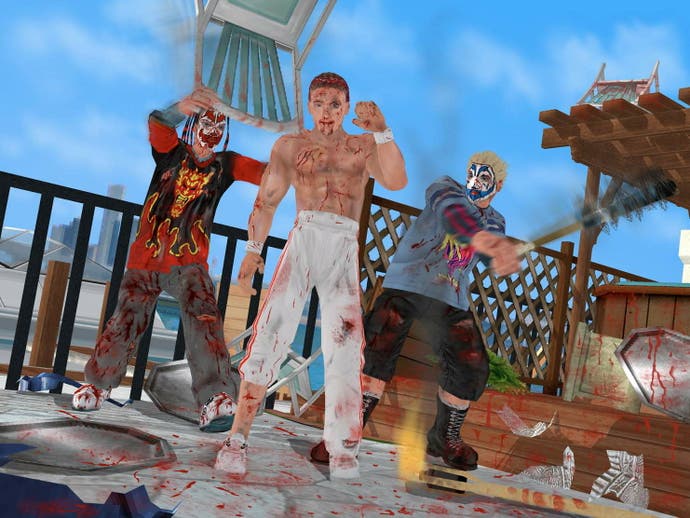 The partnership means that ICP songs can be used on the in-game soundtrack, and that there will be "multiple marketing co-opportunities at ICP concerts and Juggalo Championship Wrestling events in addition to events at retail". Good grief.
We hadn't heard of the Insane Clown Posse before today, but the kids inform us that their fans are called Juggalos, and that they have some very long running records in the American Billboard charts, a full length movie called Big Money Hustlas and a career in the WWF, WCW, ECW and latterly the backyard wrestling arena - all thanks to Psychopathic Records, their label.
"This is the final piece of the puzzle for Juggalo world domination. We've conquered every form of media and entertainment that exists, and now by partnering with Eidos we're taking over the world of video games as well," says Violent J. "Consider this your official notice."
"We're totally geeked to be a part of the Backyard Wrestling video game, along with the stars of Juggalo Championship Wrestling. This is a dream come true," Shaggy 2 Dope was good enough to contribute.
We're a bit scared.