Ark: Survival Evolved is heading to mobile next week
Free-to-play on iOS and Android.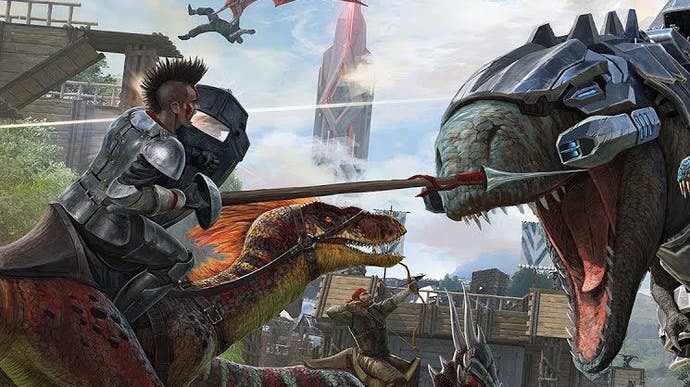 Studio Wildcard has announced that its dino-survival extravaganza Ark: Survival Evolved will be heading to mobile devices next week, on June 14th.
Ark's mobile outing was announced back in March, and is being developer by War Drum Studios. It will be available on both iOS and Android devices and is, according to Wildcard, more or less the same experience as that currently available on PC and consoles, albeit with a few mobile-specific adjustments.
At launch, Ark on mobile will include the game's original Island map, and will feature the same survival and crafting systems seen in other versions, enabling players to fashion new weapons, clothes, and items, as well as build elaborate bases, in order to improve their chances of longevity. Ark mobile also includes 80+ land, sea, and air creatures - most of which are tameable, rideable, and can be bred for better stats.
There's also a single-player mode, as well as the classic multiplayer experience for up to 60 participants on one server, with the ability to team up and form tribes also available.
Ark mobile will include a new user interface and redesigned controller set-up to make the most of mobile touchscreens, but the big difference compared to the PC and console editions, is that Ark mobile is free-to-play. Wildcard's release announcement suggests that the free version will be ad-supported, with an optional subscription service, called Primal Pass, that offers an "ad-free experience with reserved server slots, free gifts, and more".
Wildcard also notes that Ark mobile will introduce a new material known as Ancient Amber, which can be found throughout the island. This enables players to "obtain certain buffs for extended periods of time, build unique crafting structures and even resurrect your favourite pet dinosaur back from the dead". That, of course, given Ark's PvP nature, could prove controversial if it turns out that Ancient Amber can be purchased with real-world money.
There's no new footage to accompany Wildcard's release date announcement, but if the trailer above (from back in March) is indicative of the final experience, it looks like War Drum Studios has done a sterling job optimising Ark for mobile. We will, of course, have a clearer idea of how it all come together when Ark mobile arrives on June 14th.