Apex Legends Treasure Packs explained: How to get Treasure Packs and their rewards
What you should do with the Season 5 collectable.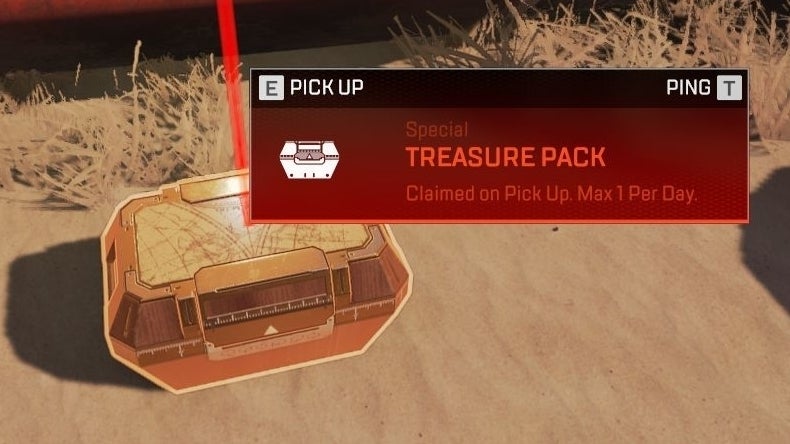 Apex Legends Treasure Packs are a new addition to Season 5, tying in with the introduction of new Apex Legends character Loba.
Treasure Packs are another form of reward to find, but they also tie into a new season-long quest, The Broken Ghost, where earning them regularly is key to unlocking more secrets.
This page explains how to get Treasure Packs in Apex Legends and what to do with Treasure Packs once you have them.
On this page:
How to get Treasure Packs in Apex Legends
Treasure Packs are a new item introduced in Season 5, with 45 available to collect over the course of the season.
You can find a Treasure Pack by playing competitive matches (Duos, Trios and Ranked). Treasure Packs are found randomly when opening loot caches. If successful, one will spring out and drop onto the floor, where you can collect it.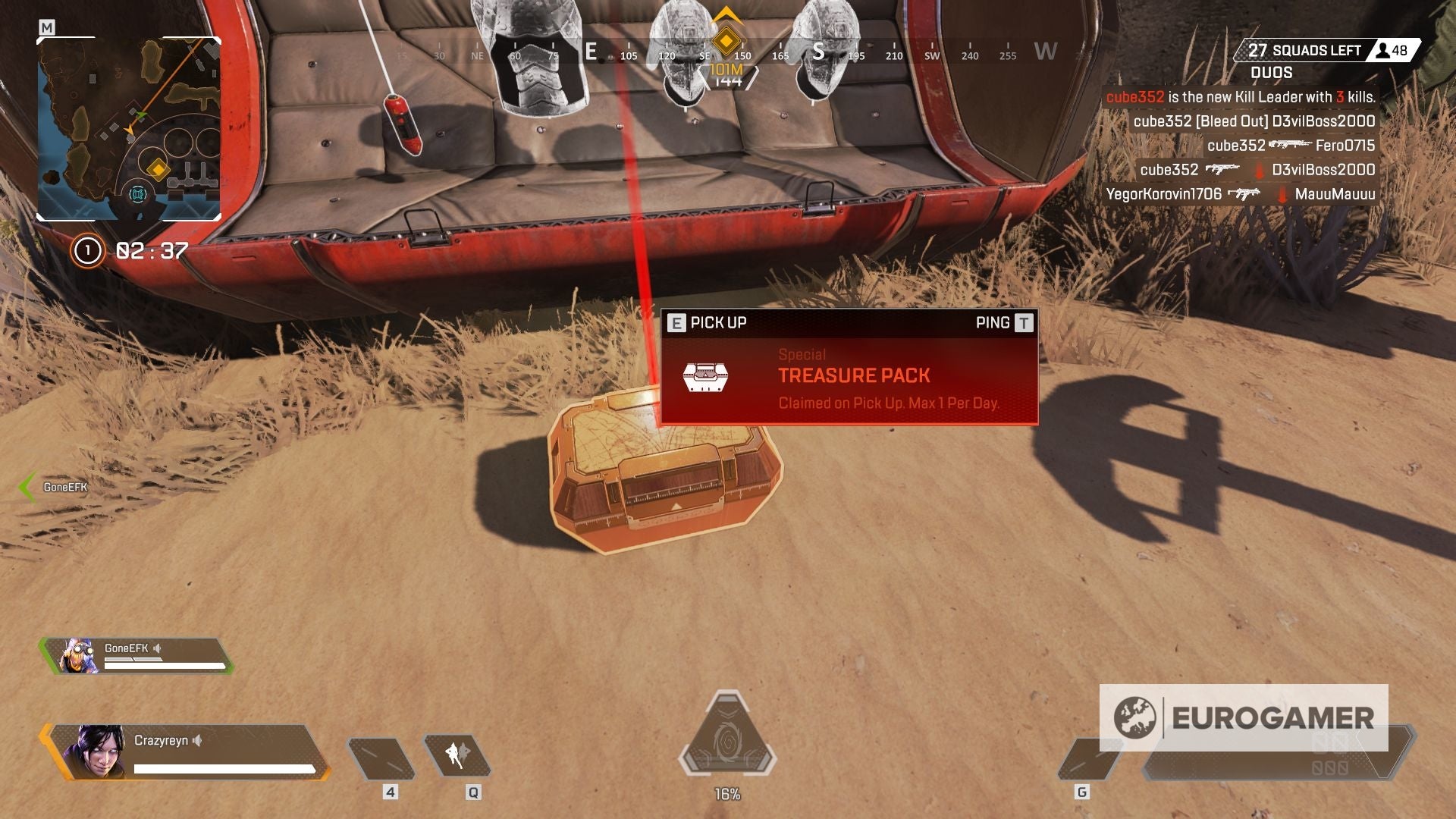 When you pick one up, Treasure Packs won't appear in your inventory during the match - but will be opened back in the lobby screen.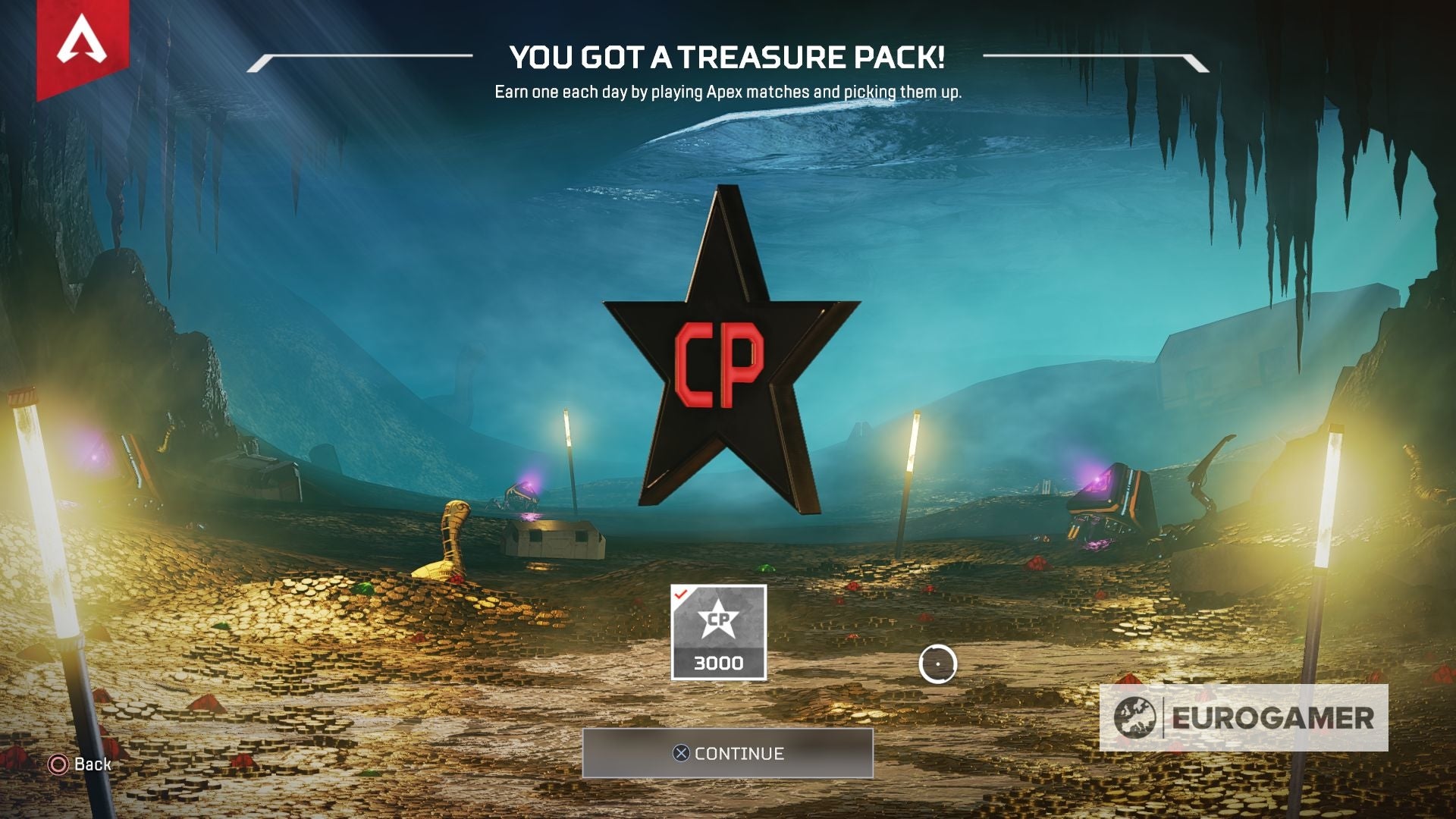 You can only collect one Treasure Pack per day. They can, however, appear in multiple matches regardless of whether you've found one yet or not. If you see another you don't need, you can always leave it for a squad member to collect.
Like everything else, you can ping it to alert it to someone else's attention.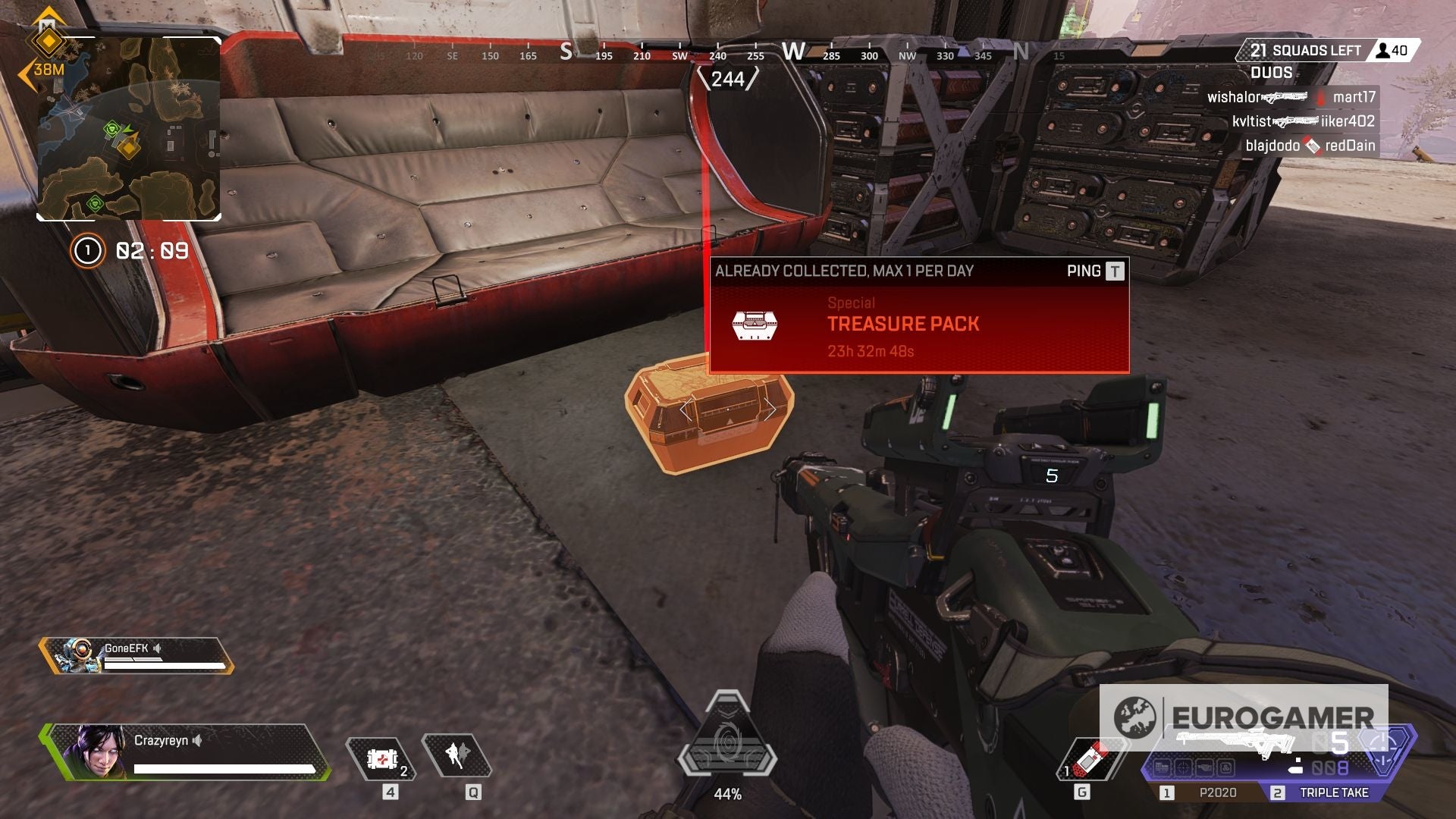 In our early experience, Treasure Packs are quite common - we found one every other match while searching loot caches. Since it's important you collect them as regularly as you can throughout the season, as long as you remember to play a match or two per day (perhaps as you chip away at your dailies) chances are you'll get a Treasure Pack along the way.
It's also worth nothing Treasure Packs don't reset the same time as the Daily Challenges do; once you have collected a Treasure Pack, a 24 hour cooldown will begin.
Are Treasure Packs in Apex Legends missable?
Since you can only collect one Treasure Pack per day, and the season being a finite length, it's possible to be short of the full 45 Treasure Packs if you don't play regularly.
However, you can catch up on Treasure Packs by purchasing them for 25 Apex Coins each (Belgium excluded). Again, all will be available to collect in-game for free if you remember to regularly check in and play the game.
---
Apex Legends Season 14 is here! Our other guides include a Heirloom Shards explainer as well as a whopping list of Apex Legends tips and tricks.
---
What to do with Treasure Packs in Apex Legends
Treasure Packs unlock two things:
Treasure Pack rewards. Alongside the usual Season Pass rewards track, Treasure Packs will also unlock another series of rewards - such as XP, Apex Packs, Crafting Materials - with each Treasure Pack you collect.
Unlock Hunts. For every five Treasure Packs you earn, you'll unlock the ability to play the next Hunt, when it becomes available.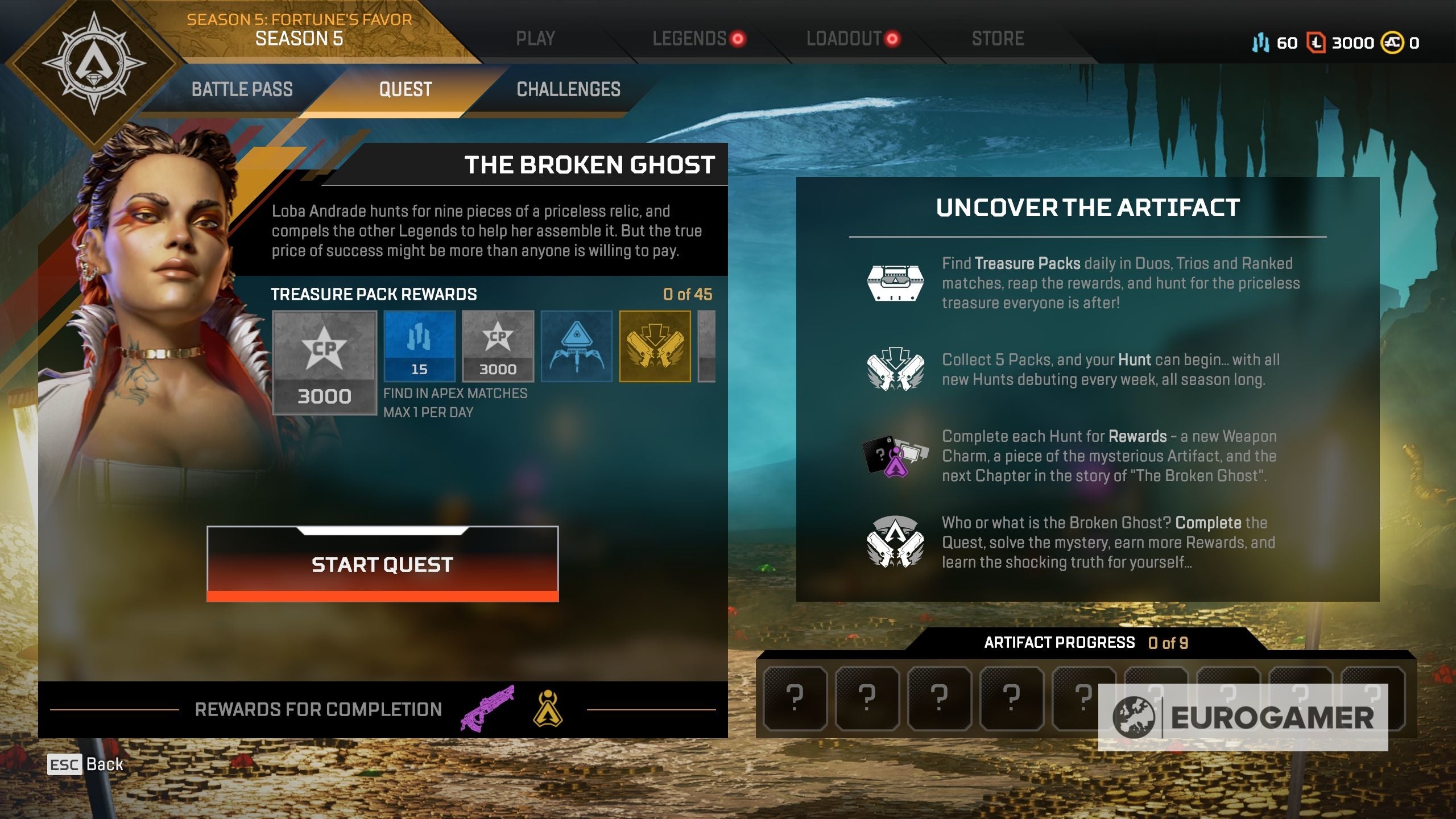 Hunts are unique missions you can play solo or with a squad which see you enter Kings Canyon at Night to collect artefact pieces. There will be a total of nine Hunts, with an artefact piece to collect upon completion, as well as an exclusive Weapon Charm for your efforts.
The first Hunt, The First Piece, went live on Tuesday, May 19th, with further Hunts available weekly from then on.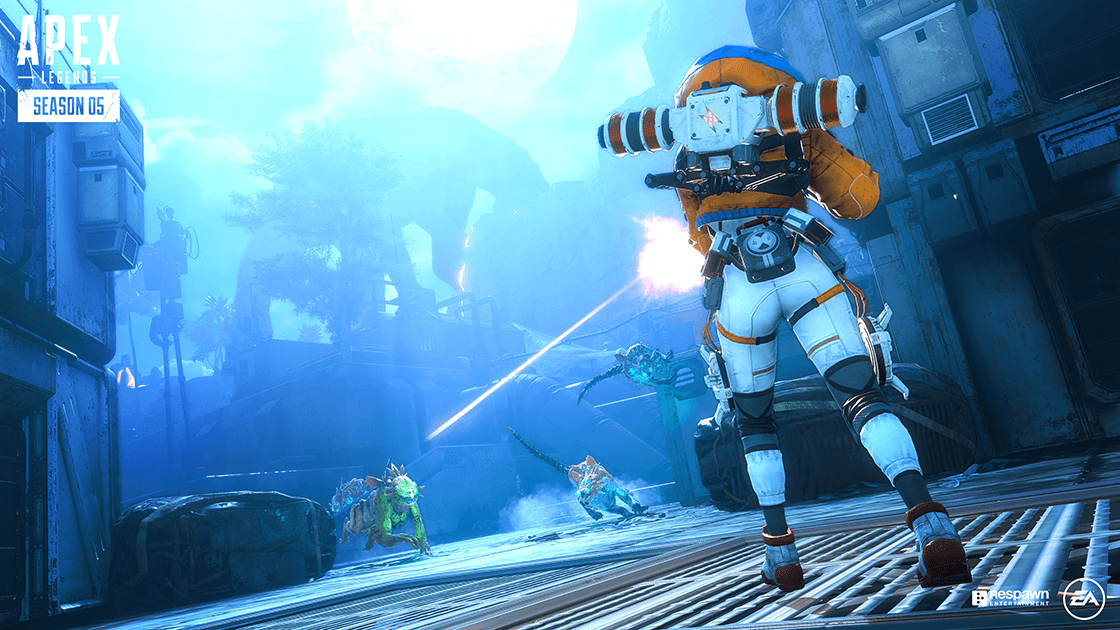 Unlike Treasure Packs, once unlocked you'll have until the end of the season to complete each Hunt - and each can be replayed until the season ends.
Looking for more advice with the game? Our Apex Legends best guns page can help!