Anonymous threatens to burn Zynga on Guy Fawkes Night
Promises to release games and confidential docs.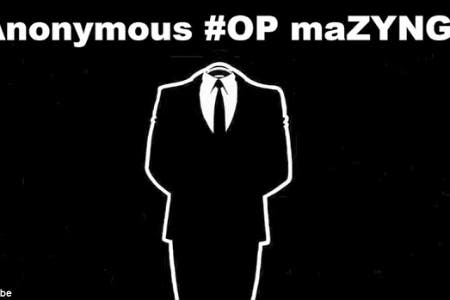 Hacker collective Anonymous has turned its attention to embattled social game maker Zynga.
Phase one of "operation maZYNGA" has begun, Anonymous said on its website. On 5th November - Guy Fawkes Day - it will release "the key to the data files" of confidential documents on Zynga executives, it claimed.
It also threatened to release the Zynga games it's taken from the company's servers.
Anonymous is upset at Zynga's "outrageous treatment" of its employees and its "actions against many developers". What it is referring to here is the recent layoffs that saw Zynga Austin decimated and the closure of a number of games. Zynga has announced it will slash five per cent of its workforce as a cost-cutting measure.
But Anonymous believes Zynga plans further layoffs and will take legal action against "anyone that speaks to the public about this plan".
Apparently these jobs will be outsourced to India.
"With a billion dollars cash sitting in a bank we do believe that such actions are an insult to the population and the behaviour of corporations like Zynga must change" Anonymous said. The hackers will not release Zynga's games for free if the developer ceases its plan to outsource these jobs.
Anonymous published a video outlining its plan on YouTube, but it was removed because it was considered a "violation of YouTube's policy on depiction of harmful activities".
The hacker operation couldn't come at a worse time for Zynga, which is yet to comment on the story.
The company has endured a torrid 2012 that has seen its share price plummet and key executives quit. It is also at the centre of a lawsuit triggered by bitter rival EA, which accuses it of copying The Sims Social.