Angry Gameseek customers call aggressive discount promotion a "scam"
UPDATE: CEO defends promotion, says "why not create history?"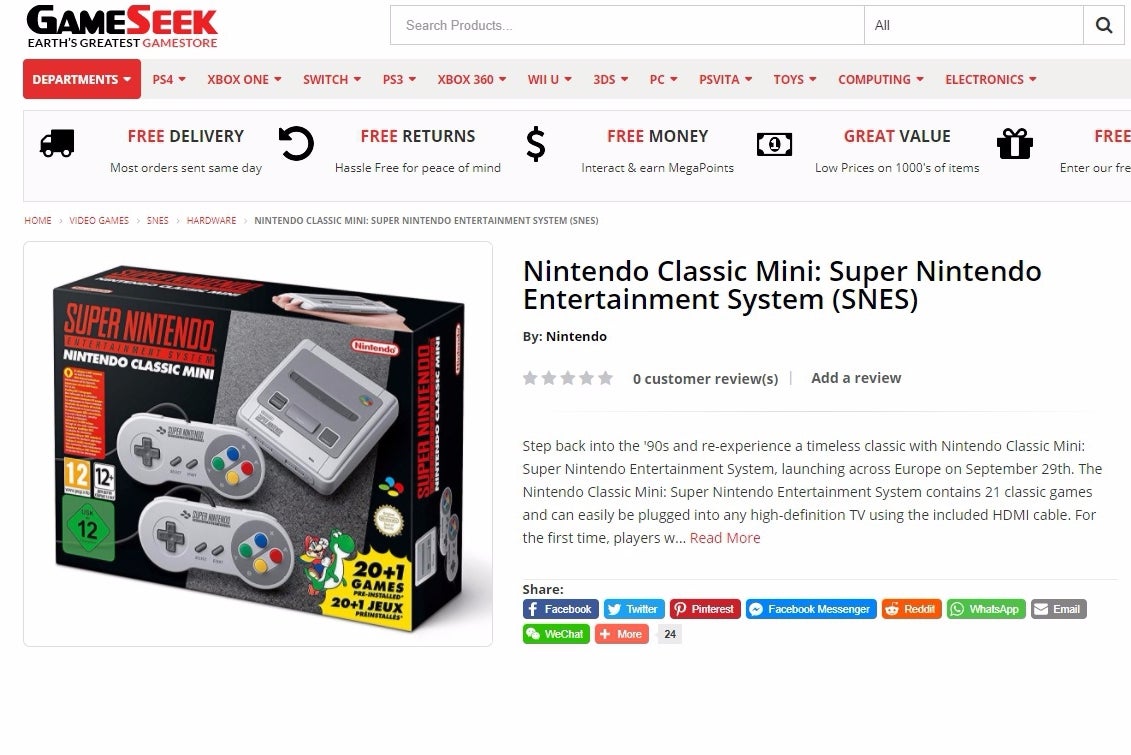 UPDATE: The CEO of Gameseek has issued an impassioned defence of his company's controversial "Cyclonic Deal" promotion, which many customers are currently struggling with.
In emails sent to Eurogamer, Gameseek boss Stephen Staley wouldn't specify how much stock of the SNES mini he had at his disposal, but denied his company's heavy discounts were "too good to be true," insisting: "we are selling them."
"It's a loss leader," he said. "It's just a promotion. I am more passionate about gaming than business.
"I am in a very unique position where i own 100 per cent of the company and can do things other companies cannot. I have no-one to report to. No shareholders. No Investors. Ultimately I am extremely passionate about video games."
Staley said when the Cyclonic Deal counter hits zero, stock is opened up. Then, once a select number of units sell, the countdown begins again.
"We couldn't sell forever at this price as we would of course go bust!" he said. "We are trying to be as innovative as we can to give the customer the best possible price."
He added: "I don't need to do this. And it's not just the SNES mini, there are 349 other items on live deal right now.
"I love my company and I love e-commerce. We could easily sell at higher prices but why not create history?
"We are doing something very generous. I don't understand. I am trying to make a difference in the world here and do things never been done before. Yes it's innovative and yes we are not perfect, but we are clearly trying, whereas most other retailers are just drifting through life and accepting the norm.
"We want to actually make history and change how customers engage and interact with an online shop. We have so many new features coming it's extremely exciting to be a part of this.
"This is an exciting new dawn for video gamers."
ORIGINAL STORY: UK online shop Gameseek is currently running a promotion that on the face of it sees aggressive discounts on big, upcoming games - and even the soughtafter SNES mini.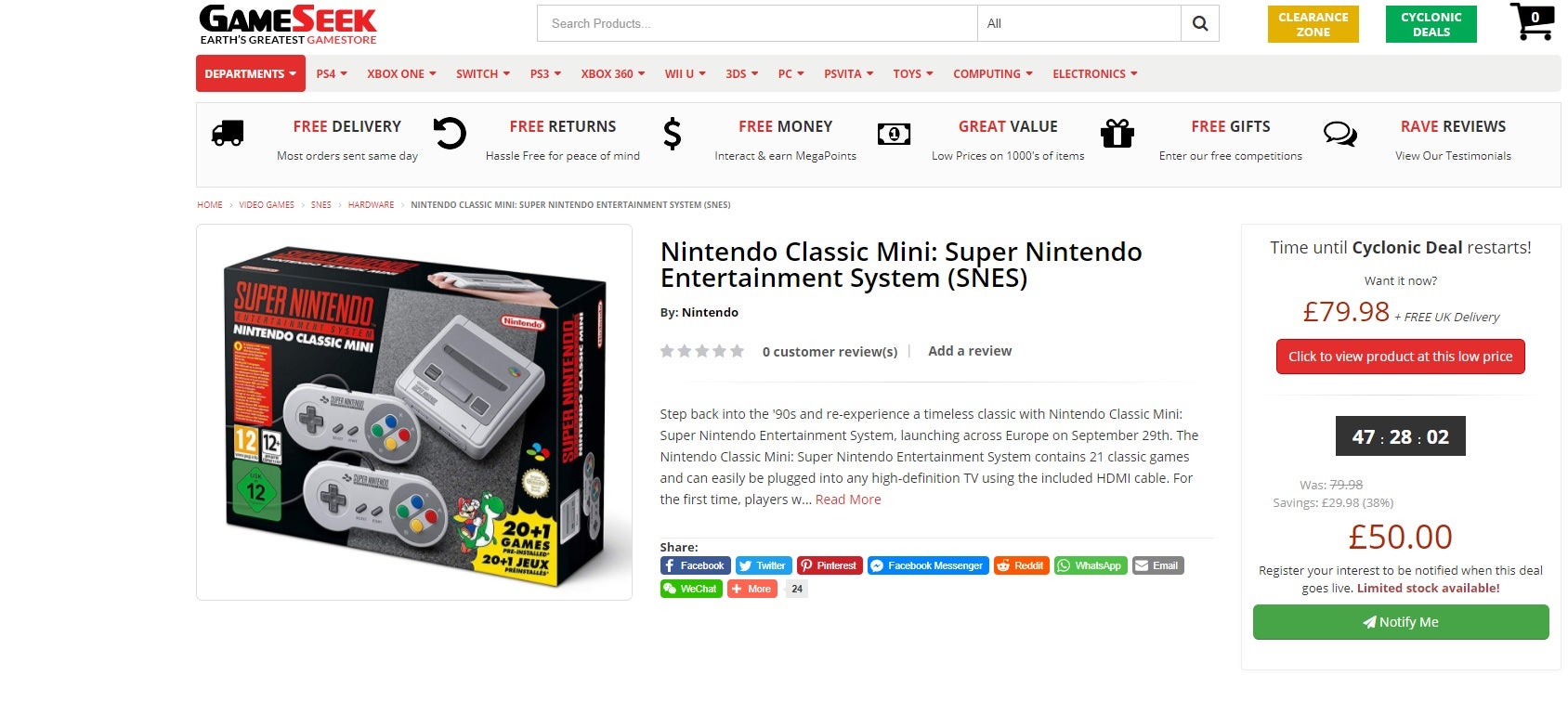 But customers are having a hard time buying the products in question at the discounted prices advertised - and now some are accusing the promotion of being a "scam".
Gameseek's "Cyclonic Deal" promotion advertises the SNES mini at £50 - that's £20 off RRP - Destiny 2 for £30 and Mario & Rabbids Kingdom Battle for Nintendo Switch for an eye-catching £25. Many other games are discounted well below RRP.
Gameseek's Facebook page posts about these deals when they're live - or at least when Gameseek claims they're live - but click through to the website and you find the deal restricted by a countdown timer.
It seems Gameseek's definition of a "live" deal does not tally with that of its customers, who accuse the Facebook alerts of being misleading.
And now there are question marks over Gameseek's motives - and how much stock it really has at its disposal.
Comments on the Gameseek Facebook page are full of anger directed at the retailer.
"The countdown timer will hit zero and add to basket will appear," one customer said. "When you press it will say added but your basket will remain empty. Refresh and it will be out of stock. If a deal is too good to be true it really is. It's a shame GS has to resort to deception to increase web traffic."
"Every time I've clicked on one of these supposedly 'live' deals it shows a countdown timer and a 'notify me when this deal is live' button," said another.
"It's basically a scam to get you to buy other things off them," said one customer.
Gameseek's Twitter page paints a similar picture. Here's a snippet:
This publicity stunt with crazy deals is hurting your brand more than it's worth.

— Gurvir Deol (@sgurvy) August 18, 2017
All they've done is ensure us lot won't EVER use them and also annoy there existing customers who tried to get these deals.

— Jamie Edwards (@Advance_Apache) August 18, 2017
Matt Webster, an affected customer who contacted Eurogamer about the issue, managed to record a deal going "live" and then showing no stock pretty much straight away.
Another affected customer, who asked to be referred to as Mr J, told Eurogamer he'd spent the past two days trying and failing to buy products under Gameseek's Cyclonic Deal promotion.
"For many customers like myself gaming is more than a hobby, it's fun, a getaway and above all stress reliever," he said. "These past two days of trying to get on the site to find something to enjoy and purchase have not been fun. They've been frustrating and extremely stressful. Gameseek has lost a customer today and I'd advise all to avoid the site even if the deals look so tempting."

However, some customers have been able to preorder games with the discounts applied. Charles Tyldsley got in touch to say he was able to snag Destiny 2 on PC and Agents of Mayhem for £25 each.
"Whilst the major deals seem to have vanished suspiciously in an instant there's some odd stragglers about it seems," Tyldsley said. "I can't really complain given what I've managed to snag, and felt it was important to hear from those which HAVE managed to get something out of their deals."
Calls to Gameseek's customer service number end up with a high-pitched internet dial-up screech. Emails to Gameseek CEO Stephen Staley currently return the following automated message:
"Thank you for your email. Due to the extreme quantity of emails and telephone calls that I receive on a daily basis I can no longer respond to every email received and can only take non-urgent calls via appointment."
All we have to go on, then, is a Facebook post from someone at Gameseek addressing the furore:
"If the countdown timer is running; it means you have been too slow to purchase. Other customers have got the deal. But that's ok. Click on the notify button to be emailed as soon as the next lot of stock goes live. It's usually less than 24 hours till the next batch go on sale so keep checking the site often and good luck!"
In an article on UK video game trade magazine MCV published this week, Staley said the promotions would cost the company £250,000, but the payoff would be increased traffic to the site that would benefit its third-party retailers.
The idea seems to be to increase website footfall in the hope some users will make use of its new third-party marketplace.