Ana goes live in Overwatch on PC, consoles TBC
UPDATE : Now live on PS4.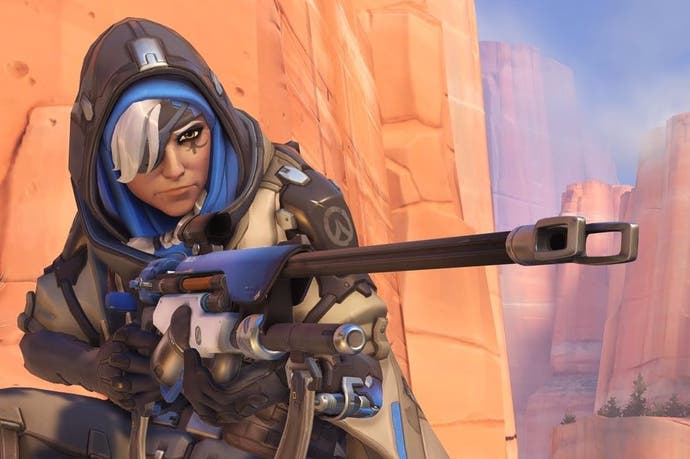 UPDATE 21/07/2016 10.54pm: Ana is now live on PS4, Sony has tweeted. Have at, you!
ORIGINAL STORY 20/07/2016 10.18am: New Overwatch hero Ana, a support sniper, is now live on PC. A patch was applied overnight to introduce her along with other changes that particularly affect Overwatch heroes D. Va and Zenyatta.
This patch has been on the Overwatch Public Test Realm for a week, and full patch notes are on Battle.net.
The patch ETA on console is unknown. "Please note that many of these changes will be implemented on PlayStation 4 and Xbox One in an upcoming patch," said Blizzard in an Overwatch forum post.
This has rankled with some members of the Overwatch console community, who feel left in the dark when it comes to updates and their arrival times.
"It [isn't] only the fact that the console players are waiting for the new patch, it is the lack of communication on patching the consoles, and the fact that it has been 2-to-3 weeks since they announced they were adjusting Torbjorn turrets for consoles and that still has not gone through," wrote djextort on the Overwatch subreddit thread discussing the update. "Additionally, consoles didn't get changes to McCree and Widowmaker until they released Competitive, which was almost a month after they were patched on PC.
"Blizzard even said they thought they solved the issue with releasing updates across systems, yet there is no word on when a console update will be coming. I'm fine waiting if they would at least give a realistic timeframe for the console update. Like tell me it's in cert and should be live by end of the week."
Military_Vet explained further, and said: "It's because PC gets the new stuff and then Blizz literally says nothing to the console players about when to expect this stuff even though it's on PC.
"They announce the release of the new characters, the patch, everything to PC, but then just keep console players in the dark about when to expect it. So every console player just sits around and say well I guess, we will get it when we get it."
It's worth remembering that with console patches needing to clear Microsoft and Sony certification, the path isn't as clear for Overwatch updates as it is on PC. There may also be parts of the patch altered for console, because Overwatch plays slightly differently there to how it does on PC.
Our affiliated Overwatch site MetaBomb has an Ana guide if you're looking for some tips on how to play her.