Amplitude HD prototype footage shown off
The camera adds 10 mph.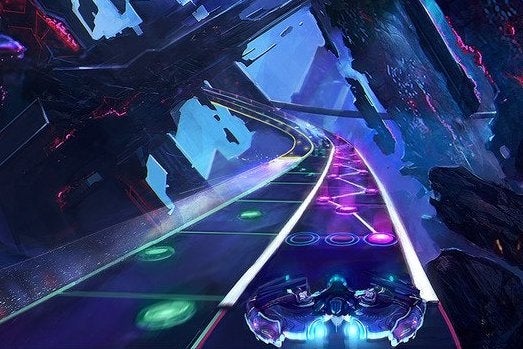 Harmonix has revealed the first prototype gameplay footage of its HD Amplitude reboot.
Creative lead Ryan Lesser fills us in on how things are coming along in the latest Kickstarter update. Basically, the background graphics are non-existent at this juncture, but Lesser explained how the game uses speed and camera techniques to give players the impression that fewer button prompts still match the same beats as a track would on a much harder difficulty.
He also noted that the tracks will switch from concave to convex intermittently "to create more of an interesting ride." In the original 2002 game, the single-player mode had convex tracks, while multiplayer kept things concave. But in hindsight Harmonix seemed to think that was a silly distinction.
Amplitude HD raised $844K on Kickstarter in May. It's due in March on PS4 and PS3.