After multiple delays Crackdown 3 re-emerges with a firm release date
And our first look at multiplayer destruction.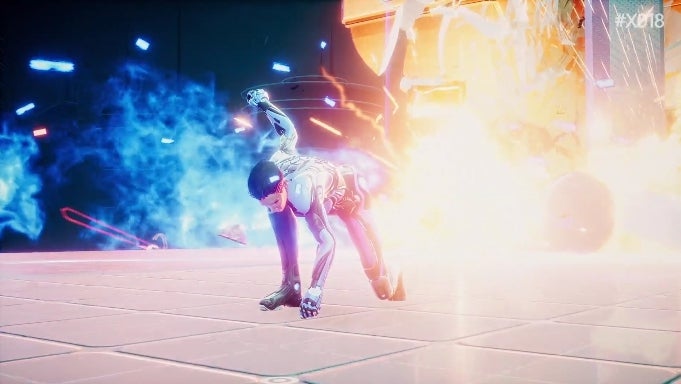 After multiple delays Crackdown 3 has a firm release date of 15th February 2019 - and a new trailer that shows off destruction in multiplayer.
Over three years after Dave Jones, one of the chief creators of Lemmings, Grand Theft Auto and the first Crackdown game, took to the stage during Microsoft's 2015 Gamescom media briefing to present pre-alpha in-game footage of Crackdown 3 and promise a competitive multiplayer open-world experience with "100 per cent destructible environments" powered by the cloud, we finally see something of the end result.
Crackdown 3's multiplayer mode is called Wrecking Zone. In it, two teams of five agents battle it out in fully destructible arenas, the goal being to destroy the enemy tower. It's powered by Microsoft's cloud computing service Azure, creative director Joe Staten said during Microsoft's XO18 event.
The video, below, gives us a look at this destruction. We see agents smash through the walls of buildings, shooting up platforms, and a skyscraper crashing down.
As a first-party Microsoft game, Crackdown 3 launches on Xbox Game Pass on the same day it comes out on disc. It's also an Xbox Play Anywhere game, enhanced for Xbox One X, with cross-play support across Xbox One and Windows 10.
The 15th February release date, perhaps crucially for Crackdown 3, is one week before BioWare's Anthem and 4AGames' Metro Exodus come out. Microsoft's game was set to run up against Sony's Days Gone, too, but the zombie hack 'em up was recently delayed. Does that give Crackdown 3 a bit more breathing room?
Either way, the end is in sight for Crackdown 3, whose development has involved a number of studios (Sumo Digital, Certain Affinity and more) and, based on what we've heard, has proved troublesome. Read more about that in our Crackdown 3 feature.
Meanwhile, the original Crackdown is free from now until 30th November, with Xbox One X enhancements.