After five years, turn-based strategy hack-and-slash hybrid Aztez launches
Now on Steam. Coming soon to PS4, Xbox One and Wii U.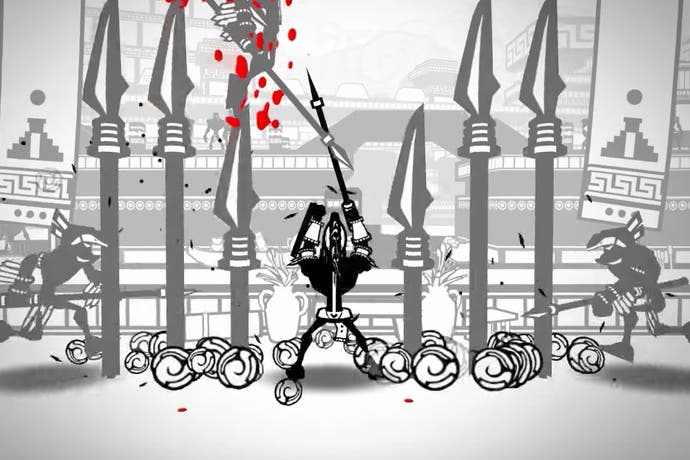 Way, way back in March of 2013 I covered a promising mishmash of genres called Aztez. Part turn-based strategy game about conquering an Aztec empire, and part real-time hack-and-slash 2D action, Aztez showed a lot of promise. Now, 4.5 years on, Aztez has finally come to fruition and launched on PC, Mac and Linux.
The premise is simple: players must deploy limited quantities of troops to claim various pieces of terrain in an overworld map, like many strategy board games. The difference is that in Aztez battles are fought through real-time sidescrolling brawls with a robust combat system consisting of multiple combos and weapons. The campaign is meant to be played multiple times with procedural generation altering the sorts of challenges you come up against.
For more detail, developer Team Colorblind's Ben Ruiz provides a succinct one minute breakdown of Aztez's core gameplay loop in the following video:
Eurogamer contributor Steve Haske previewed Aztez nearly four years ago, and even then found it was shaping up to be something special.
"While the mechanics for Aztez's graphic battles are tight and feel solid, it is replayability, the whole reason Ruiz wanted to make the game in the first place, that may be the real hook," Haske wrote many moons ago. "The strategy half of the game is built procedurally, meaning that environmental factors and scenarios, among other factors, will be different every time you play."
Aztez is currently 10 per cent off on Steam until 8th August, making the current price £13.49 / $17.99 for the next week.
Developer Team Colorblind is planning console versions of Aztez to follow. It will be coming to PS4, Xbox One and Wii U. (Yes, Wii U!)