7 Days to Die combines a voxel-based sandbox with zombies
UPDATE: Campaign ends having smashed every stretch goal.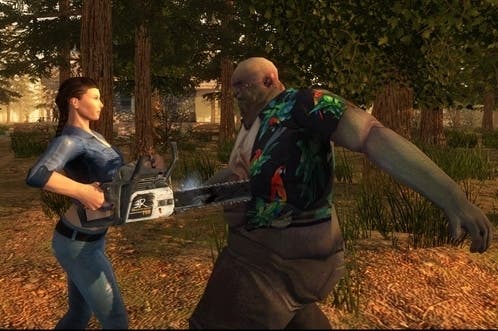 UPDATE: The 7 Days to Die Kickstarter has ended a rousing success, more than doubling its $200K goal.
In fact, it met every one of its stretch goals, ending at a whopping $507,612.
This means it will have: a larger world; more items, enemies, weapons, skills, player characters, and animals (that can turn into zombies); Oculus Rift support; weather-based effects; a professional soundtrack; safehouses; merchants; professional voice actors; expanded multiplayer modes and world-building tools; more detailed, less cubic terrain; vehicles; and an expanded story.
That's a lot of added features! Though developer The Fun Pimps noted that some of these will be added as post-launch updates.
Original Story: 7 Days to Die has got to be one of the most ambitious indie offering on the horizon. It combines the voxel-based sandbox of Minecraft with the open-world zombie horror of DayZ or State of Decay, the fort-defense of Iron Brigade, and the RPG elements of Borderlands complete with skill trees.
In some ways Minecraft was already a zombie game anyway, what with its bloodthirsty creeper population and all, but the zombies in 7 Days to Die are more aggressive at night and they'll make a greater effort to invade your shelter, so you'll have to set traps as you live out your Omega Man fantasy. Due to the game's voxel-based nature, everything is destructible and your undead opponents will smash through doors and walls if given long enough to use their noggins for their unintended purpose. There's even stealth, item degradation, farming, and boss fights, so there's something for everybody.
Available in single-player, co-op, and competitive multiplayer, 7 Days to Die is almost comically feature-filled. Developer The Fun Pimps explains its grand vision best in its Kickstarter pitch video below.
7 Day to Die may not be a looker, but it's still early on and has only been in development for seven months with a scant team of two full-time staffers and three part-timers working on it.
Backers can reserve a digital copy of the game for $15 upon its estimated PC release in May 2014. Mac and Linux versions are expected to follow after a couple of months. Those with bigger wallets and/or less patience can gain early access to the beta by pledging $25. Alternatively, you can support 7 Days to Die by voting for it on Steam Greenlight.
Currently 7 Days to Die has raised $65,344 towards its $200K goal with 19 days to go before its 15th August deadline.