25 years later, Nintendo fans have finally found Luigi in Super Mario 64
Pipe dream.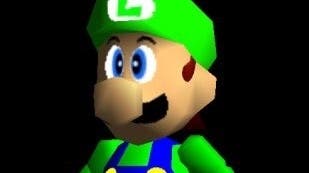 Luigi being hidden somewhere in Super Mario 64 has long been an urban legend. It was something I remember hearing about at school, reading on old forums. If only you did this, I was told, Mario's missing brother might finally appear.
Well, it's been 25 years, but Luigi has finally been found. Not within the inner workings of any Mario 64 copy you might own, mind, but in the source code of the game uncovered as part of this weekend's so-called "gigaleak" of secret Nintendo development information.
Within the leak are Super Mario 64 development files for Luigi's model, which fans have now pulled apart, stuck together and showcased for the first time.
The discovery of Luigi within the game's development files is an astonishing find - but one that's not entirely unexpected.
Fans have argued to what extent Luigi was ever implemented (or hidden) within Super Mario 64 ever since the publication of a 1996 interview with Shigeru Miyamoto, within the game's official strategy guide (thanks, Shmuplations). In it, Miyamoto confirmed the second plumber had indeed been intended to appear.
"Well... until February, he was in the game," Miyamoto said, laughing. "Ultimately, due to memory issues, we had to take him out.
"Then we were going to include him in a Mario Bros. style minigame, but because most users probably only have that one controller when they first buy their N64, for that reason (and others) we decided not to."
So ends a quarter century-long hunt for Mario's lost brother - although fans are still poring through the game's files for more secrets. Birdo next?