£180 for a 1TB PS4, Uncharted 4, Last of Us and DriveClub
UPDATE: And it's gone.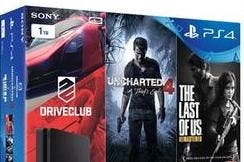 UPDATE 1pm: GAME has relisted the bundle with the price of £289.99.
Eurogamer readers report being able to snap up the below bargain for £179.99 while it lasted - well done to those of you who got there in time.
---
ORIGINAL STORY 2.05pm: UK retailer GAME has listed a very, very good deal for a new 1TB PlayStation 4 and three games, all for £179.99.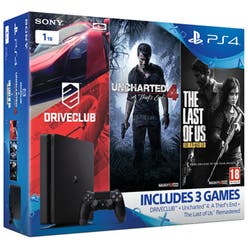 The bundle includes physical copies of Uncharted 4, The Last of Us: Remastered and DriveClub. The PS4 in question is the newer slim model.
It's a great price - we're half-expecting GAME to hold its hands up and admit a pricing error. But if you are after a console and didn't buy one last week on Black Friday, the deal is live on GAME, right now.
Both Uncharted 4 and The Last of Us Remastered are well worth playing, if you haven't already.
DriveClub has also received a huge amount of work since its patchy launch, turning it around completely.
If you're after this deal it might be worth jumping in quickly before it disappears.