1000-player FPS claims new world record
Swedish shooter smashes Planetside's tally.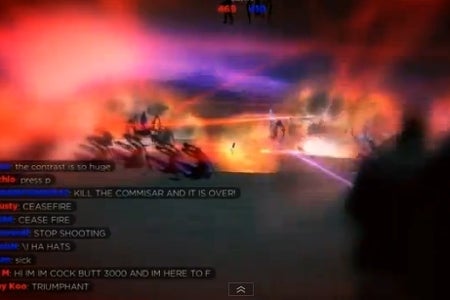 Man vs Machine, a browser-based FPS prototype developed by Swedish developer MuchDifferent, has set a new record for the number of players simultaneously scrapping it out in the same game session.
As reported by The Escapist, 999 players from around the globe were logged on to the game at the same time over the weekend, smashing Planetside's existing record of 600.
Gamers were split into two teams for the two hour-long session, which was free for most players. Those who wanted to reserve a place ahead of time payed $29.99, which organisers donated to Engineers Without Borders. Check out the YouTube footage below for a glimpse of the game in action.
According to a blog post from MuchDifferent boss Christian Lönnholm, there was "no lag and great responsiveness" though balancing issues apparently made the contest a lopsided affair.
"It was something of an execution of the Team Machine in the beginning," he wrote.
"After the first half hour, the score was overwhelmingly in favor for Team Man. We did some adjustments to the gameplay balancing but it was not until the end of the two hour session that Team Machine had turned the tides and now the roles were reversed and Team Man was not even able to leave the spawning area.
"Getting a game balanced is hard and our guesswork proved to be quite off the mark. In the end, I think most people had an enjoyable experience of the sheer massiveness of it all and having the game run smoothly helped with that."
MuchDifferent apparently now hopes to refine the tech and make it available to other developers for mainstream use.