You can stick Baby Yoda on your Star Wars: Squadrons dashboard later this week
Via the free Mandalorian Supply Drop update.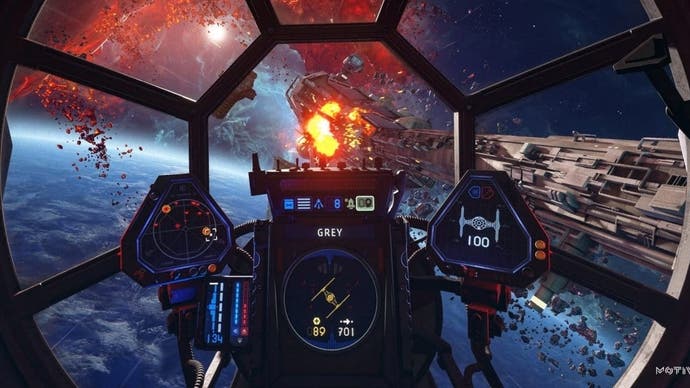 Star Wars: Squadrons players looking to add a touch of adorable to their high-flying deep space murder sessions should point themselves (and their spaceships) in the direction of EA's incoming Mandalorian Supply Drop update, which, among other things, adds a new Baby Yoda dashboard novelty for cockpit companionship later this week.
The free Mandalorian Supply Drop is, as you've probably already guessed, being released as an accompaniment to the second season of Disney+'s Star Wars show The Mandalorian (which debuts this Friday, 30th October), and introduces eight appropriately themed new unlockables: two hanging flairs, two dashboard flairs, two holograms, and two decals.
Each in-game faction gets one of each cosmetic type between them, with Baby Yoda (or at least a rather glum-faced arts-and-crafts rendition of him), unsurprisingly, being the sole domain of New Republic players. The Imperial faction, on the other hand, get a rather spindly looking IG-series assassin droid to plonk on their dashboards.
You can see a few more of the Mandalorian Supply Drop's new additions (but not the decals, for some reason) in the image accompanying EA's announcement post.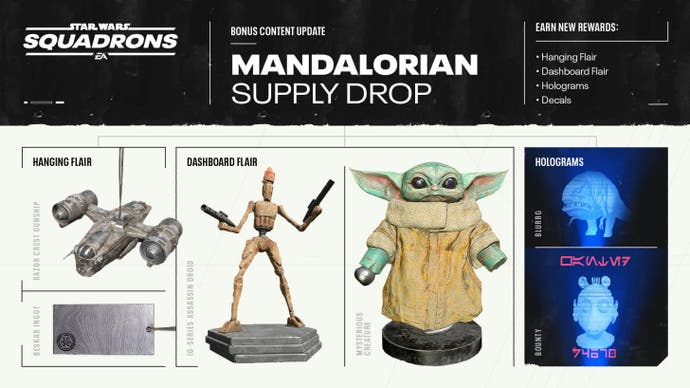 Star Wars: Squadrons - which Eurogamer's Emma Kent called an "exhilarating multiplayer experience [that's] dazzling in VR" in her Recommended review earlier this month - will get its Baby Yoda when the Mandalorian Supply Drop update arrives on Xbox One, PlayStation 4, and PC this Wednesday, 28th October.