You can play TimeSplitters 2's first two levels in Homefront: The Revolution
Dam!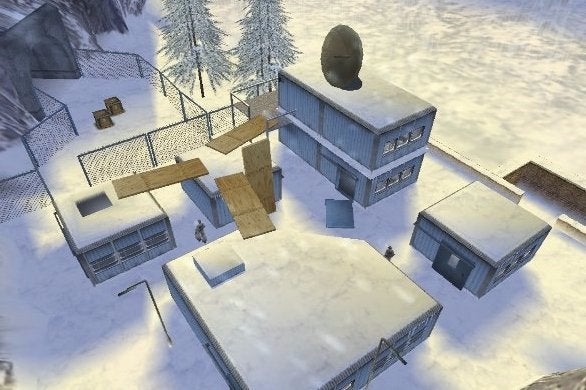 The first two levels of TimeSplitters 2 are included as an Easter egg in Homefront: The Revolution.
Siberia and Chicago are both playable via an arcade cabinet hidden in Homefront's version of Philadelphia, which has been invaded by North Korean troops.
The arcade machine is located inside a makeshift prison area. Interacting with it brings up the TimeSplitters 2 levels to revisit in all of their PS2, Xbox and GameCube-era glory.
Popping the melons, firing at the pool table to pocket balls, firing mines at the radio dish... we remember it all very well.
Homefront: The Revolution is being made by Nottingham-based Deep Silver Dambuster Studios, which formed from the ashes of Crytek UK, which in turn was once known as TimeSplitters developer Free Radical Design.
The rights to the TimeSplitters brand remained with Crytek despite the studio reforming under Deep Silver - so it is a little surprising to see the TimeSplitters Easter egg present.
But this does not indicate the TimeSplitters IP has changed hands - Crytek still owns it, Eurogamer understands.
And, despite aborted plans for a TimeSplitters 4 once upon a time, there's still no sign the franchise will ever make an official comeback.
So, right now, Homefront: The Revolution will be the only way to play a TimeSplitters game on PlayStation 4 or Xbox One.
After around five years in development, the departure of Crytek (and THQ before that), Homefront: The Revolution will finally launch for PC, PlayStation 4 and Xbox One on 20th May.
Here's a brand new trailer: