You can pay £70 for a kart in Angry Birds Go!
UPDATE: Rovio vows to take action on "some of the points raised".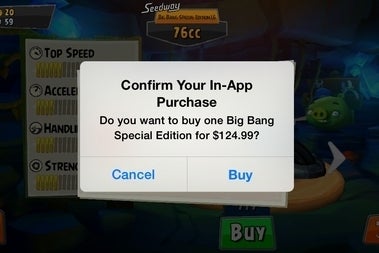 UPDATE: Rovio has told Eurogamer it'll tweak Angry Birds Go! after it was criticised for its in-app purchases.
Communications director Sara Antila said the game's availability was limited because it had been "soft launched" - and changes will be made before it's out on these shores.
"Angry Birds Go! is currently available early in certain regions as part of a soft launch," Antila commented. "That said, early feedback from the press and community is important to us. We'll definitely be taking action on some of the points raised."
Eurogamer has followed up with Rovio to ask exactly which points it will act upon.
ORIGINAL STORY: iOS kart racer Angry Birds Go! has soft-launched in New Zealand - and the true extent of its microtransactions has been revealed.
PocketGamer reports Rovio's new game, which is compatible with Hasbro's Angry Birds Telepods, features $100 cars and energy systems - and even has in-game advertising.
Each character has a power-up, which you can use once or twice for free. Or, you can use the premium currency, called gems, to buy more.
As for the karts themselves, those with more capacity for upgrades cost real money, PocketGamer said. One, the Big Bang Special Edition car, costs a whopping £69.99.
Like many free-to-play mobile games, Angry Birds Go! has an energy system. Each bird gets tired after five races. Then, you have to wait or pay to use that bird again.
Early impressions suggest Angry Birds Go!'s racing is fun and its graphics are great. It's just the pesky microtransactions letting the side down. As PocketGamer points out, the game proper doesn't launch until 11th December, so the microtransactions may be tweaked.
Perhaps.