Yooka-Laylee patch will tone down gibberish voices
UPDATE: Update available on console, Switch version teased again.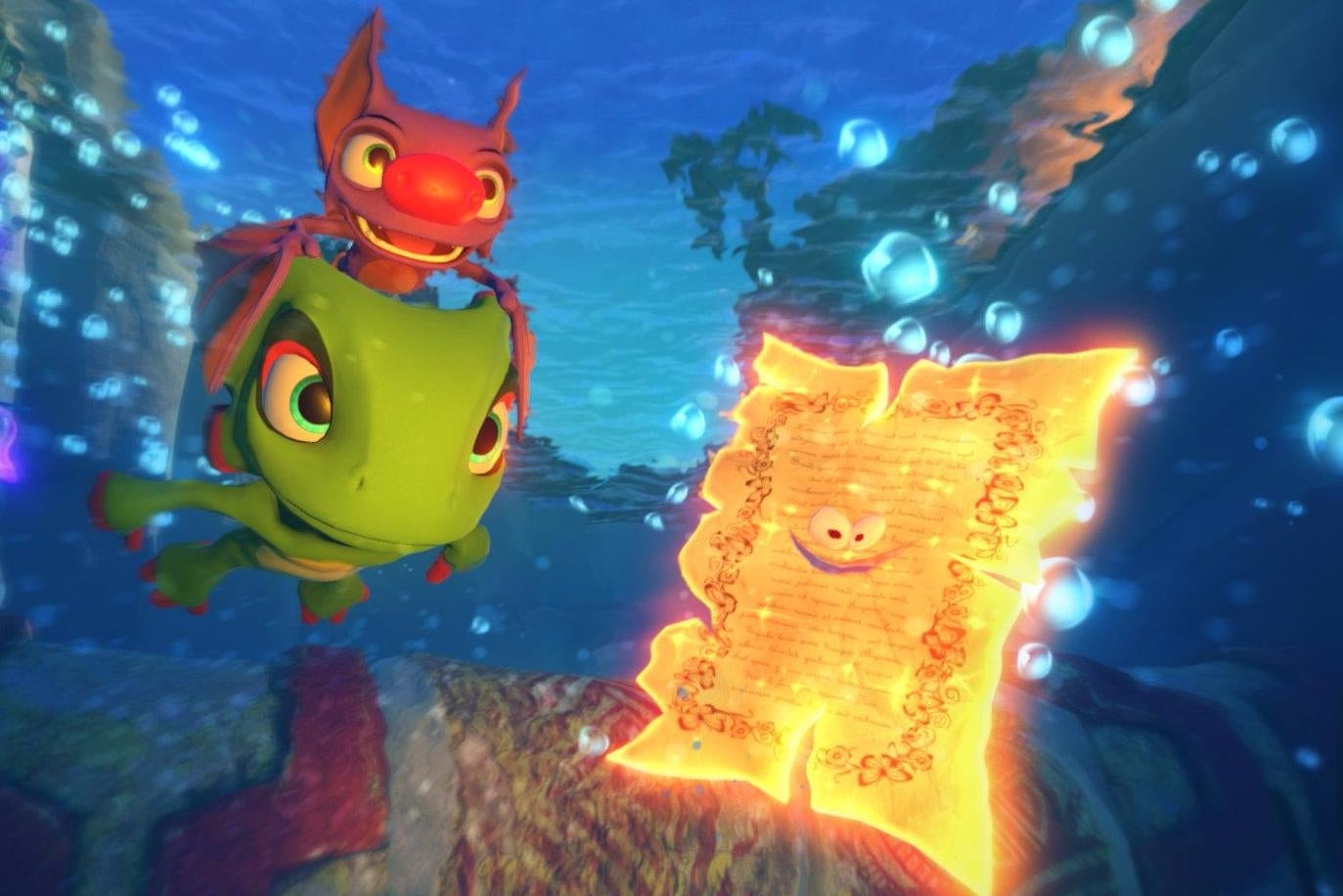 UPDATE 10/8/17 3.45pm: Yooka-Laylee's first big update is now available on PlayStation 4 and Xbox One. Delightfully named as the Spit 'n' Polish Update, this patch tones down the game's gibberish voices, adds new pause menu music and improves the game's camera.
"As smug PC types will attest, this rather large update adds more polish than Madame Tussauds' supply cupboard," Playtonic trumpeted.
The full list of improvements lies below, as detailed when the update launched for PC. A range of bugs have also been squashed, as detailed on the Playtonic blog.
As for the game's Switch version? Well, there's still no release date.
"We're aware of the huge demand for more news on this and appreciate your patience as we work out the final issues," Playtonic soothed. "As soon as we're 100% confident with this version and everything is approved, we will make sure you're first to know the release date!"
---
ORIGINAL STORY 7/6/17 3.40pm: Yooka-Laylee developer Playtonic has issued a bumper stack of patch notes and shown off the game's Switch version in action for the first time.
Gaze at the upcoming Nintendo version of Yooka-Laylee below - its release date will be revealed "shortly".
As previously teased, you'll be able to shorten the gibberish voice sound effects during dialogue and speed through dialogue completely if you wish. You can also quickly restart arcade games and Kartos challenges, better see Sonar objects, better control flying movements and much, much more.
Full patch notes lie below:
THE YOOKA-LAYLEE SPIT 'N' POLISH UPDATE
Brand new pause menu music
New optional camera mode with minimal assist
Pagies have added signposts to Hivory Towers to help guide players to new worlds
Design tweaks to all arcade games
Speed improvement to scrolling through Totals Menu
New option for shorter 'gibberish' voice sound FX
New speech volume option
New ability to speed through dialogue by holding Y
Cut-scenes can now be skipped with Y
New moves section added to pause menu, with image guide
Camera design improvements throughout game (less scripted cameras, door cams now appear behind player etc)
Restart option added in the pause menu during arcade games and Kartos challenges
'Sonar-able' objects now have more clear visual identity
Laser move no longer requires player to crouch
Minecart control improvements and new visual effects
Transformation control improvements
Improved first-person aiming controls
New first-person aiming control options added
Improved flying controls
When transformed, collecting butterflies now restores energy
Hunter tonic now tracks the last 30 Quills and Casino Tokens, in addition to the Health and Power Extenders. It will also whistle at the location of the closest rare collectable.
Health UI is now always visible when low
Design tweaks in various areas (Black Hole in One, Gloomy Gem Grotto etc)
New icons added for keyboard/mouse controls
Improved Rampo boss fight
Added PC Display Settings to the in-game pause menu
Performance improvements
Audio improvements
A callback to Yooka-Laylee's roots in the Banjo-Kazooie era, the game's nonsense language of grunts and warbles is meant to sound cheerful... but can get a little tiring after a while.
Alongside the option to put a sock in those sounds, the patch will also allow you to skip dialogue faster, bypass cutscenes and improve the game's camera.
This latter point is something we noted could do with improvement in Eurogamer's Yooka-Laylee review:
"The game's camera is dependable enough when it comes to bouncing between platforms or gliding through hoops, but anything that actually requires a measure of precision - say, using Yooka's tongue to lasso a grapple point or a berry during a timer-based puzzle - can be a headache," Edwin wrote.
It'll be a little while before we see these changes, however - full patch notes will be confirmed "in the coming weeks", developer Playtonic noted.
"This is a sumptuous, diverting homage to a bygone era in game design that should keep fans of the old school hooked," our review concluded, "even if it doesn't set the world on fire."
Will you support Eurogamer?
We want to make Eurogamer better, and that means better for our readers - not for algorithms. You can help! Become a supporter of Eurogamer and you can view the site completely ad-free, as well as gaining exclusive access to articles, podcasts and conversations that will bring you closer to the team, the stories, and the games we all love. Subscriptions start at £3.99 / $4.99 per month.