Yes, you can stealth in a cardboard box in Metal Gear Rising: Revengeance
New gameplay videos reveal slicey Platinum action game.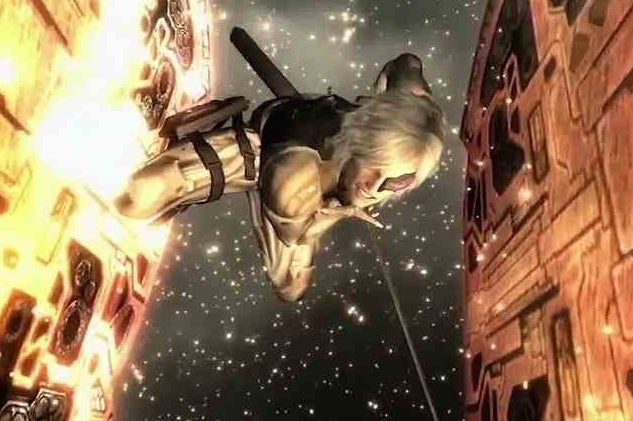 Yes, you can stealth in a cardboard box in Metal Gear Rising: Revenegeance.
Yesterday I played the first five chapters of the Platinum-developed action game, which stars cyborg ninja Raiden and is set in the Metal Gear universe.
THERE MAY BE SPOILERS AHEAD.
In Chapter R-02, where the object is to find your way into a research facility, Raiden is running about in the sewers.
You encounter a section that is as close to stealth as the game gets, with multiple powerful UGs patrolling the area. You're encouraged to stealth past them, and, luckily, you find just the item for the job: a cardboard box.
When using the box Raiden magically disappears into its innards, his eyes peeking out of a small slit at the front, in classic Metal Gear Solid style. You can creep around in the box, which lifts it up just enough for us to see Raiden's little feet. Stop moving and you drop to the floor. You can see the cardboard box in action in the just-released gameplay video below (it's towards the end).
Later on you find a drum can, also useful for stealthing. You can also place small holographic images of attractive women to distract enemies.
Revengeance is the game Platinum produced after Kojima Productions failed in its attempt to make Rising, which was supposed to be more akin to the stealth-focused games in the main Metal Gear Solid series.
Revengeance is as action-oriented as Platinum's other games, including Bayonetta, with a focus on perfectly timed parries, cutting with Raiden's sword and over-the-top boss fights. One of these, against a huge RAY, is in the video below. This boss fight is taken from the end of the game's opening chapter, which serves as a tutorial of sorts.
Incidentally, as you work your way through the game you'll earn credits to use to upgrade Raiden's body and his weapons. One of these new bodies includes a Sombrero and Poncho outfit (it'll make sense when you play the game). Hide in the cardboard box while wearing this outfit and the Sombrero rests on top of it. LOLS.