Cartoony new Transformers game bears Platinum Games' name
UPDATE: "There's definitely more to this game than meets the eye."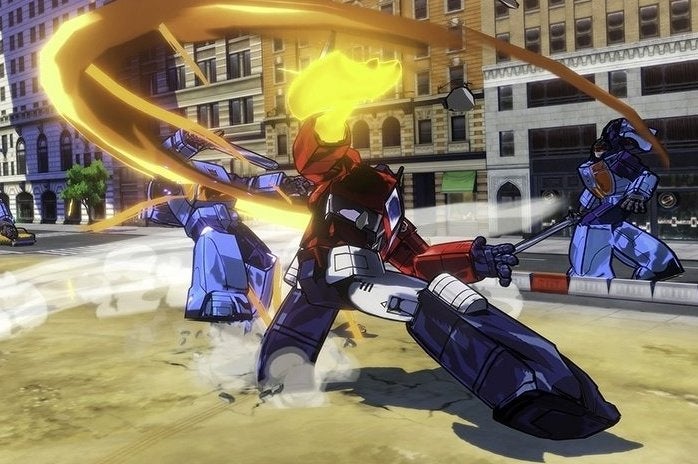 UPDATE 16TH JUNE 2PM BST: Japanese maestro Platinum Games has spoken for the first time about Transformers Devastation in a post on the PlayStation Blog.
It's written by Metal Gear Rising: Revengeance director Kenji Saito, and written as if he's in charge. If he is, that bodes incredibly well.
The most pertinent of his comments may be the final one: "There's definitely more to this game than meets the eye."
In the game, he says, fluidly combining the robot and vehicle forms of the Transformers will be the core. "The key is action that combines these two concepts, allowing players to freely switch modes whenever needed, racing around the city in vehicle mode and pounding on the enemy in robot mode," he wrote.
"Send an enemy flying with a punch in robot mode, switch to vehicle mode and slam into it, then finish by unleashing a huge attack. Accelerate to top speed in vehicle mode and switch back to dropkick the enemy. Switch modes again to evade the enemy's attack, counter, and follow up with a relentless combo..."
Another central focus will be setting up for big-name face-offs between Autobot and Decepticon rivals. The game's "electrifying" story is inspired by comics and "races back and forth across the cosmos between Earth and Cybertron, drawing in a huge cast of fan-favourite characters for a battle to decide the fate of both worlds".
The game's style was influenced by the original Transformers cartoon series as well as '80s Japanese anime. Saito called it a "bold, contemporary style".
The game is coming out on PS4, PS3, Xbox One and Xbox 360 this autumn.
UPDATE 15TH JUNE 11PM BST: There's a teaser trailer and it confirms Platinum Games' involvement. Courtesy of Push Square.
ORIGINAL STORY 15TH JUNE 12PM BST: Celebrated Japanese action game studio Platinum Games (Bayonetta, Vanquish, Metal Gear Rising) has been named as the developer of a new cartoony Transformers action game - Transformers Devastation.
The naming was done by huge US retailer Best Buy, in a page since taken down. Members of NeoGAF caught it.
"PlatinumGames signature fast action allows instant robot to vehicle attacks, slam downs, counter-attacks, and infinite combos for a unique master combat system," the product description apparently said.
Current and old consoles were named (PS3/360, PS4/XO) as the platforms, five Autobots as the playable characters - Optimus Prime, Bumblebee, Sideswipe, Wheeljack and Grimlock - and "deep customisation" promised.
Actors from the original Transformers TV series will apparently reprise their speaking roles, including Peter Cullen (Optimus Prime), Dan Gilvezan (Bumblebee), and Frank Welker (Megatron and Soundwave).
There is no official confirmation available at this time.
Platinum Games has been teasing an E3 reveal for weeks. However, Transformers Devastation's proximity to disappointing Platinum/Activision game Legend of Korra throws up some concerns.
"Regardless," Simon Parkin concluded for us, "this is the first major blemish on the studio's reputation; a misfire that means Platinum's name no longer guarantees quality."
Screenshots from Pure Xbox.