Yes, Todd Howard and team have settled on The Elder Scrolls 6's region
"You can rule some things in. And you can rule some things out."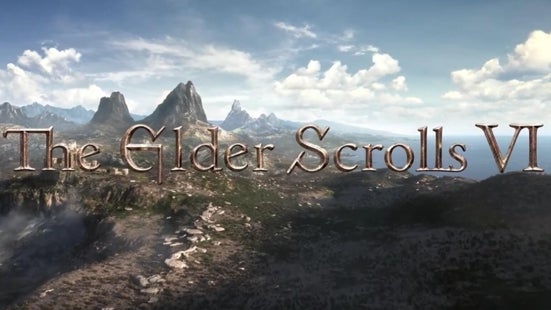 When Todd Howard announced The Elder Scrolls 6 at the end of Bethesda's E3 show, the message was clear: we're working on the game but it's a very long way away. We saw a very brief trailer of a mountainous, coastal environment, and then a logo, and that was it.
But what were we seeing? Was this the setting of the new game or a kind of red herring - a generic Elder Scrollsian scene made for the trailer? Has Bethesda Game Studios even settled on the region we'll play in yet?
I thought we'd wait yonks for an answer but as luck would have it I got one from Todd Howard at Spanish conference Gamelab this week.
"Yes," he told me, Bethesda has settled on the region The Elder Scrolls 6 will be based in. And it was decided, he said, "a while ago".
Is it possible, then, to work out from the trailer which region it is?
"I obviously would say yes," he said, "but you can't - it's intentionally... You can rule some things out. And you can rule some things in.
"The first thing we do is the world so we've known for a while where it's set."
We had fun going to town on The Elder Scrolls 6 trailer and trying to work out where the game will take place, and we think we've figured it out - so I put our best guess to Howard.
"Is it Hammerfell?" I asked.
"I'm not going to answer where it's set!" he laughed.
Bethesda Game Studios announcing a game so far ahead of launch was out of sorts with how the company has done business in recent years. The Elder Scrolls 5: Skyrim was formally announced a year away from launch, and more recently Fallout 4 was announced only six months (five, Howard corrected me) from launch. So why announce The Elder Scrolls 6 so far out?
"That was a debate, 'Should we do this?'" said Howard.
"There were two things in our heads about that. One, we're going to E3 and showing a new Fallout game [Fallout 76] which is very different than we usually do, and then we're going to show you an Elder Scrolls game [Blades - the mobile game] that is very different than we would usually do, and if we leave it just at that, our fans are like, '... - Are you still going to do the things I love?'
"Let's just say it. It's better to say we're making it. It makes life a little bit easier for us."
"We had already said publicly, 'We are eventually going to do Elder Scrolls 6 but we have these other projects...' and we felt like we would be saying that same thing right after E3 at something like this [Gamelab], so let's make sure our fans know this is coming, and in what order. They don't know what years - we have some ideas but we're not positive either - but 'here are the things we're going to be doing'."
People were already talking - and coming to their own conclusions - about The Elder Scrolls 6 and Starfield, the new sci-fi IP Bethesda Game Studios will make before TES6, so why not get it out in the open? "Let's just say it," Howard and team decided. "It's better to say we're making it. It makes life a little bit easier for us. [If we didn't say anything] they would be disappointed and they'd still ask 'What about Starfield?' and 'What about Elder Scrolls 6?'. But it's also exciting! We're excited; we want to share it with everybody.
"The negative is," he added, "are we distracting from what we're putting out now? But people get it. Let's just be upfront - this is what we're doing, when, and in what order."
But another negative could be building hype too early, I say. "Potentially," he said. "We're not saying a lot. I don't worry about that. I worry about what happens in the future when people say, 'Well when am I going to hear about it again?' and then you're saying, 'I can't tell you.'
"There'll certainly be some new negatives we didn't anticipate but there's a lot of positives so we'll see how it goes. Ask me next cycle!" he said. "Next time you're like, 'Are you sure that was a good idea?'"
Will you support Eurogamer?
We want to make Eurogamer better, and that means better for our readers - not for algorithms. You can help! Become a supporter of Eurogamer and you can view the site completely ad-free, as well as gaining exclusive access to articles, podcasts and conversations that will bring you closer to the team, the stories, and the games we all love. Subscriptions start at £3.99 / $4.99 per month.