Xbox One TV integration suffers noticeable judder in UK
UPDATE: Possible workaround discovered - but it's not ideal.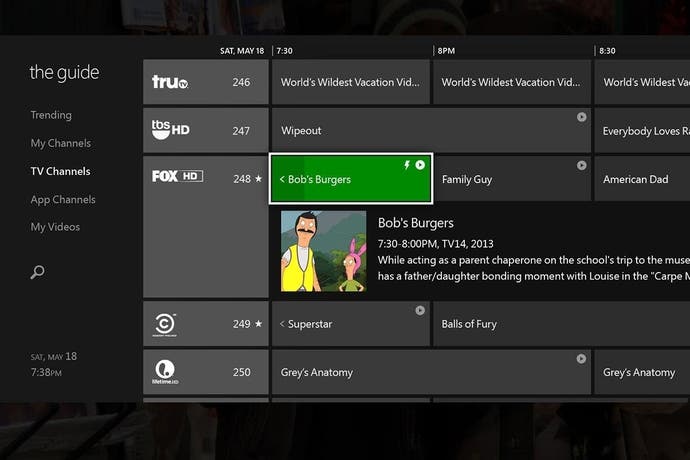 UPDATE: There's a potential workaround for the Xbox One TV integration judder issue.
HDTVTest, which spotted the problem with UK Xbox One's earlier this week, disovered a way to force the Xbox One to output a 50Hz signal - matching the TV signal pumped into the console through the HDMI-in port.
As the site explains, to do this you need to set your Xbox One to auto-detect HDMI from within the display settings, then toggle the resolution from 1080p to 720p or vice versa. This triggers a prompt asking if you'd like to keep the new resolution. Select no.
Apparently this tricks the Xbox One into thinking your TV isn't compatible with a 60Hz signal and forces a 50Hz output.
Unfortunately, this workaround isn't ideal. It makes everything 50Hz, including video games. So there may be stutter when playing games. You can of course manually switch back to 60Hz to play games.
Microsoft is yet to comment on the issue.
ORIGINAL STORY: The Xbox One's TV integration suffers noticeable judder in the UK, tests have revealed.
Website HDTVTest.co.uk first flagged up the problem, which occurs when you run a live TV feed from your set-top box, such as a Freeview HD, Sky or Virgin Media box, into Microsoft's console using the HDMI-in port.
The UK and Europe use a 50Hz broadcasting system. The Xbox One outputs at 60Hz, so if you feed it a 50Hz HDMI source, one out of every six frames will be a duplicate, causing judder.
Digital Foundry's Richard Leadbetter told us the following:
"Assuming the reports are true, this represents a significant issue Microsoft has to address. Displaying 50Hz video at 60Hz means that every sixth frame will be a duplicate, resulting in noticeable judder on a lot of material - scrolling text on news channels, fast pans in TV and movies, and the left to right sweep of the camera in football matches."
So, what can Microsoft do about this? According to Leadbetter, the company faces a headache combating the issue.
"There are no easy solutions in this scenario - the kind of frame-rate upscaling required to eliminate the judder at 60Hz would probably compromise image quality," he said.
"The simpler solution would be to lock the user interface to 50Hz when TV elements are on-screen, switching back to 60Hz for gameplay - though this wouldn't be quite as seamless an experience as Microsoft originally envisaged."
Microsoft has made much of the Xbox One as an all-encompassing multimedia device, and pointed to its HDMI-in functionality as a point of difference between its console and rival PlayStation 4. Xbox One owners can use the "Snap" feature to watch TV while gaming on the same screen.
Eurogamer has contacted Microsoft for comment.