Will Take-Two push loot boxes or microtransactions into Obsidian's new RPG?
"The answer is simply: no."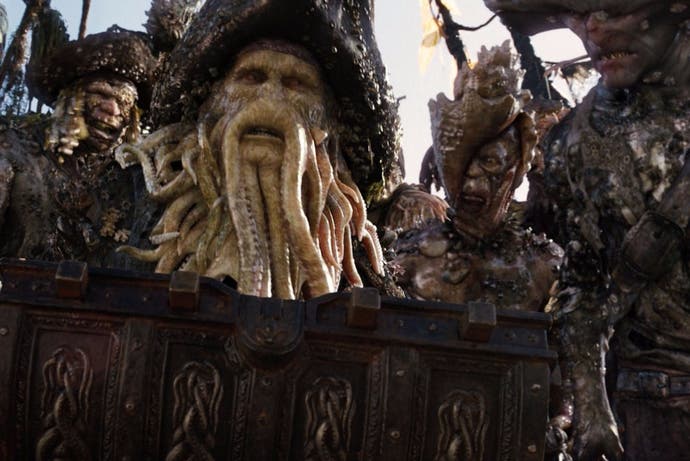 Earlier this week, Take-Two's brand new label Private Division was named publisher of Obsidian's big and secret, in-development role-playing game.
Take-Two, the parent company of 2K and Rockstar, is a big name, and what big names have been doing recently - Activision Blizzard, EA and Warner - is pushing loot boxes in their games. The question naturally followed: will Private Division push Obsidian to do the same?
It prompted an official response from the studio as well as a very short video featuring the leaders of the new Obsidian game project, Leonard Boyarsky and Tim Cain.
Said Obsidian's written statement: "We're extremely excited about our upcoming RPG, and we know you are too. We wish we could tell you all about it right now... but we're going to hold off until the time is right. What we did want to talk about was a question a lot of you have been raising: 'Will this upcoming game feature any loot boxes or other microtransactions?' "The answer is simply: 'no'. No microtransactions, of any kind, in our game."
In the very short video shared on Twitter, Leonard Boyarsky was asked whether there would be any microtransactions in the new game, to which he bluntly answered "nope". Tim Cain was then asked whether there would be any loot boxes, to which he equally bluntly answered "nope".
Obsidian's written statement continued: "We also wanted to say a word about our partnership with Private Division, our publisher on this title. Far from 'pushing' us to put anything - microtransactions or otherwise - into our game, Private Division has been incredibly supportive of our vision, our creative freedom, and the process by which we work to make RPGs. They have been fantastic partners, and we are extremely excited to work with them through release, to put what we know is going to be an amazing game into as many hands as possible."
And finally: "As always, thank you so much for your support. We know we couldn't do what we do without our fans, and we want you to know that we put you guys first in every decision we make."
I was lucky enough to visit Obsidian in August this year and good grief did I make sure you knew about it. I rummaged through Obsidian's unused-game-idea drawer; I discovered what the cancelled Xbox One exclusive Stormlands was all about; I wrote a making of Alpha Protocol; I found out Fallout: New Vegas wanted a choice of three playable races; and I learned why Obsidian once turned down Game of Thrones. (Although my favourite piece of all actually came from you and your favourite memories of Obsidian games.)
More importantly, while touring the studio and quizzing the co-founders on everything I could possibly think of, it quickly became apparent Obsidian was hiding a big secret. Easily the biggest project in development at Obsidian - one occupying the bulk of the 175-person team - I wasn't allowed to know about.
"We're making a big RPG - and it's not Fallout!" was all Feargus Urquhart, Obsidian CEO, could say. And now we know Fallout co-creators Leonard Boyarsky and Tim Cain are leading the charge, it seems like a pertinent quote indeed.
All the secrecy, however, didn't prevent us - Chris Bratt went with me - accidentally ambling, on camera, right into the middle of the development area for the new game. Still, Urquhart was quick on the draw and redirected us elsewhere with a characteristically bubbly giggle.
What Obsidian's new RPG will be we don't know. But I do know Obsidian - despite all the success of Pillars of Eternity - still desires, more than anything, to make big, multiplatform games.
"Most of the gaming I do on my PlayStation 4 tends to be the big releases," Obsidian co-owner Chris Parker told me. "Those are the games that I play, those are the games that I love, those are the games that I want to make and compete with. Given a choice, I want to go spend all the money on a big budget title and make something that's unbelievable."