Watch: 8 times stealth made us want to eat our own hands
Plus more from Outside Xbox.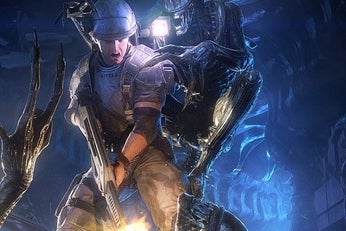 When stealth is done right, it's a gratifying test of your skill, patience and focus. When stealth is done wrong, it's more irritating than a mosquito in your room at 3AM asking to borrow a tenner.
How about that stealth section in Aliens: Colonial Marines, in which the Xenomorph variant dubbed the Boiler comes shambling at you unless you hold perfectly still? And who could forget the stealthy bit in Life in Strange, in which Max is whisked off to a nightmarish landscape of dark corridors, stalked by her least favourite people? We always knew hell would be a forced stealth section.
Also this week, we hunted Hitman's 25th Elusive Target, the Fugitive: an internationally wanted criminal who has checked into the Gama facility in Hokkaido, Japan for facial reconstructive surgery.
That's going to make identifying him tricky, what with the new face, but Diana will be feeding us intel as we go. Not much intel, it turns out, but we do discover our target has booked in for rhinoplasty. Cue half an hour of examining everyone's noses until we discover our prey, bandaged nose and all.
Finally this week, Show of the Week examines Dead by Daylight, a multiplayer horror game in which one player is a supernatural serial killer while four others are regular chumps trying to not get murdered in a series of arcane trials.
In these trials, the killer must sacrifice victims to the mysterious trans-dimensional Entity for which they work. That's just one of the eldritch abominations you don't want to wind up as your manager, as Show of the Week discovers.
For more videos, visit us at outsidexbox.com or subscribe to our YouTube channel. See you there or back here in seven days.