Viking RTS Bad North's big free Jotunn Edition expansion is out now on PC
Commanders! Traits! Checkpoints! More!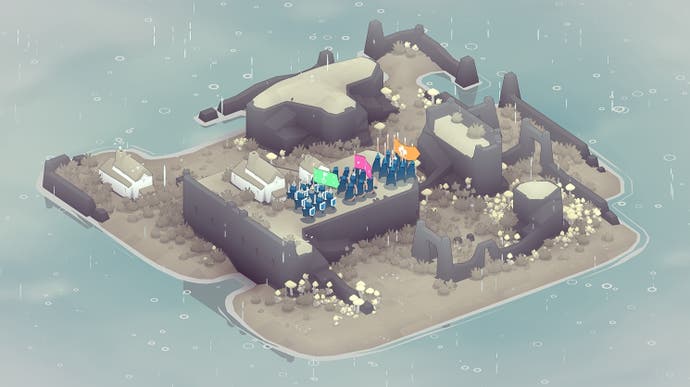 Late last year, developer Plausible Concept released its fiendish Viking-themed real-time strategy oddity Bad North, a game that impressed Eurogamer enough to earn it a big old Recommended badge. And now, the studio is back with a "giant" free expansion, titled, appropriately enough, the Jotunn Edition, and it's available now on PC and Mac.
Bad North, despite its rather serene, somewhat minimalist good looks, is a surprisingly punishing affair, coughing up ever-more-difficult bite-sized challenges as players moved from island to island in the main campaign.
The goal each time never wavers, however; players must command their small army into position around an island in order to fend off attacking forces and protect as many buildings as possible. Armies are colour-coded into distinct units - specialising in melee attacks, archery for long-range assaults, and so on - and must be thoughtfully positioned, in time-honoured rock-paper-scissors fashion, to best deal with incoming marauders.
Adding a few additional wrinkles, there's a levelling system, new classes to unlock, and the ever-looming doom of rogue-like permadeath (although this is less of a concern in the new expansion). And while Bad North is simple, its stream-lined strategy is smart enough, and energetic enough, to remain compelling.
As you might imagine, Bad North's new Jotunn Edition expansion, which adds a range of new elements and systems, is intended to enrich the strategic core further. You can, for instance, choose from a variety of commanders, each with their own selectable hero traits, offering a unique attribute, four new items, and more.
There's also a new enemy type, and a new meta-progression system, enabling players to use items and traits in future attempts once they've been discovered during a campaign. And for those that found the going just a little too tough originally, Plausible Concept has introduced a number of features intended to improve accessibility, including checkpoint islands to save progress as the campaign continues, the ability to share gold among all units, buffed archers, and the option to see all units you'll be facing prior to starting a new island.
Masochists need not fear, however; the Jotunn Edition also adds a Very Hard Difficulty option for seasoned players.
All this is available right now in Bad North's free Jotunn Edition expansion, and there's currently 25% off the base game via Steam, GOG, and the Humble Store for those yet to tackle its challenges. There's no word on the expansion's move to Xbox One, PlayStation 4, and Switch at present, but hopefully more news will shared soon.