The Discord Store global beta launches today
Ooh Steamy.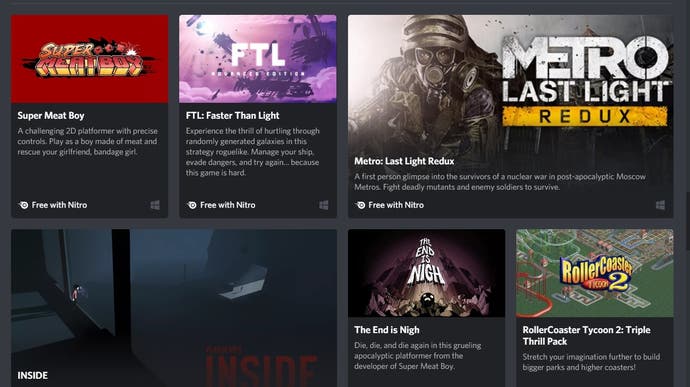 The Steam-like Discord Store launches its global beta today, so everyone can try it out.
Discord's store cupboards are nowhere near as full as Steam's - there are only around 20 games to straight-out buy - but there are some nifty initiatives which make Discord stand out. These are First on Discord, Discord Nitro and Universal Library features.
First on Discord is what it sounds like: games with timed exclusivity to Discord. The handful of signed games aren't juggernauts but do include Bad North, which Christian Donlan Recommended in his review.
Sinner: Sacrifice for Redemption (Another Indie)
Minion Masters (BetaDwarf)
Bad North (Raw Fury)
At Sundown (Versus Evil/Mild Beast)
King of the Hat (Hyroglyphik Games)
Last Year: The Nightmare (Elastic Games)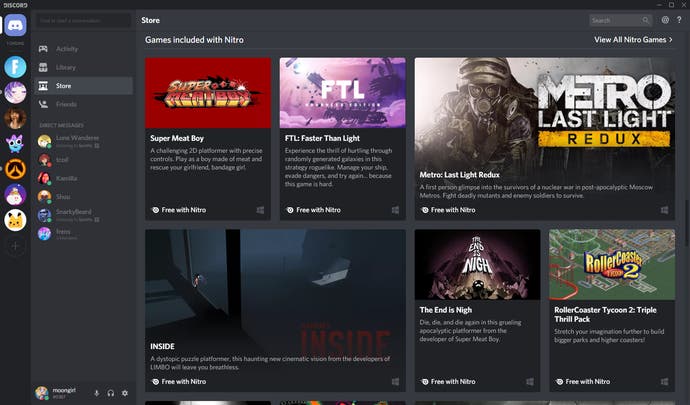 Discord Nitro, meanwhile, is like Netflix, or the Xbox Game Pass: a subscription service which gives you access to a catalogue of games for a monthly fee. Discord recently announced it was bumping the price of Nitro from $5 to $10 a month, to reflect the growing number of games available with it. There are only 50 games there but some good ones nonetheless.
This War of Mine
Last Day of June
Ticket to Ride
RollerCoaster Tycoon 2
140
Shadow Tactics: Blades of the Shogun
Pony Island
Lost Horizon
Metro: Last Light redux
Unleash
Guacamelee! Super Turbo Championship Edition
Brutal Legend
Psychonauts
The End is Night
Seasons After Fall
SOMA
Trine 2
Trine 3
Trine Enhanced Edition
Slime-San
The inner World
Bridge Constructor
Bridge Constructor Medieval
Dead Age
Risk of Rain
Wasteland 2
The Metronomicon: Slay the Dance floor
TowerFall Ascension
Nidhogg
System Shock: Enhanced Edition
System Shock 2
Oddworld: New 'n' Tasty
Out of the Park Baseball 18
Hob
Torchlight
Torchlight 2
Inside
Limbo
Monaco: What's Yours Is Mine
Tooth and Tail
Dandara
Gonner
Kathy Rain
Kingdom: Classic
Kingdom: New Lands
Tormentor X Punisher
Chaos Reborn
Ashes of the Singularity: Escalation
Galactic Civilizations 3
FTL
Super Meat Boy
Super Hexagon
VVVVVV
de Blob 2
de BlobSpellForce 2
Darksiders 2 Deathfinitive Edition
Darksiders Warmastered Edition
Red Faction 1
Dungeon Defenders
Subscription-based game-streaming services are on the rise. It's in streaming we may see the next big battleground in gaming, with Microsoft and Google already investing heavily in it. Forget OnLive and Gaikai, this could be the real thing.
Anyway! Discord's Universal Library is a feature which launches any game on your computer - handy, given increasing amount of launchers (Epic, Battle.net, Steam, GOG, etc.) out there now.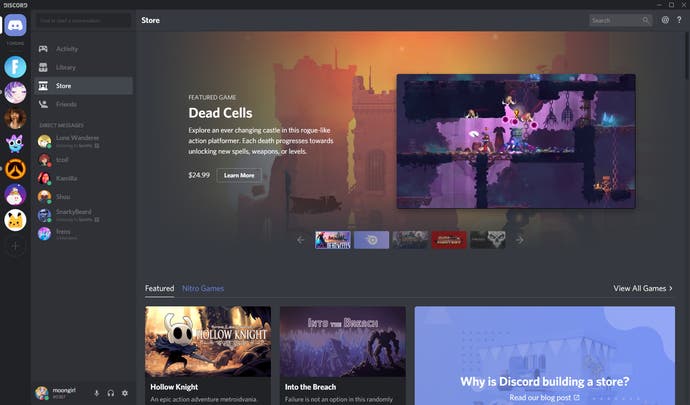 Could we, in Discord, be about to see the rise of the next major gaming platform? There's certainly already a large community there.