US Sony store sales suggest a price drop of the 3G Vita
Or possible discontinuation.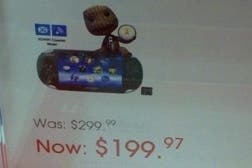 Most US Sony stores have drastically reduced the price of the 3G-compatible model of the PlayStation Vita with some retailers claiming the model is being phased out.
The 3G model - that comes with an 8GB memory card and voucher for a free game if you sign up for data coverage - is on sale for $199.97, down from its usual $299.99 price. To put this in perspective, the model without 3G retails for $249.99 and isn't on sale, suggesting that Sony is phasing out the 3G model. Joystiq called up every Sony store in the US to clarify the sales. An employee at the Denver location said the sale was indefinite and suggested this meant the model was being discontinued.
The New Jersey and Las Vegas locations corroborated this story, claiming it was being discontinued as well. However, an employee at the Seattle sale said the offer would only last until Sunday.
Not all stores are running the sale and the online price is marked down to $249.99, the same as the model without 3G that doesn't include the 8GB memory card or game voucher.
To see if a store near you is running the sale, Joystiq has the full rundown.
We've contacted Sony US and Europe to get to the bottom of this and are awaiting reply.