UK online shop says it will honour £198.50 Nintendo Switch pre-orders
Had just shy of 1000 of them.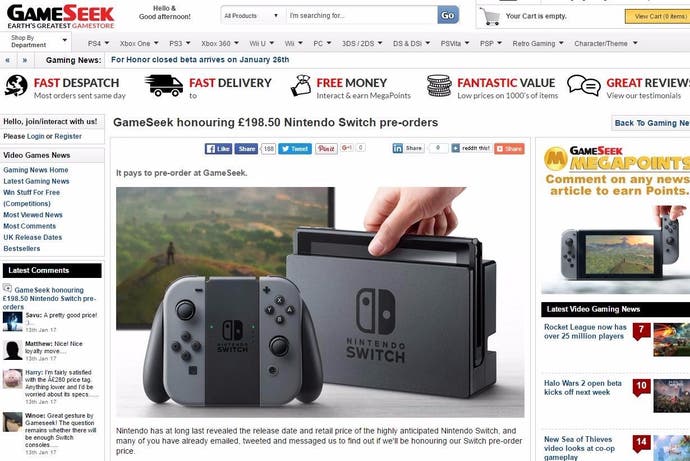 A UK online shop that sold Nintendo Switch at £198.50 - over £80 cheaper than it costs elsewhere - has said it will honour pre-orders.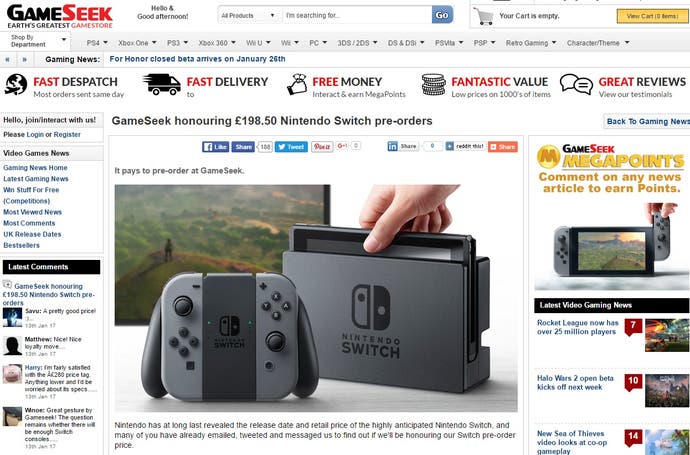 In a post on its website, GameSeek said "everybody" who ordered a Switch with the company will see their pre-order honoured at £198.50. This morning, Nintendo revealed the Switch carries a UK retail price of £279.99.
In a follow-up conversation with Eurogamer, GameSeek boss Stephen Staley said nearly 1000 people pre-ordered at the low price (GameSeek takes payment up-front with pre-orders).
There are a few obvious questions to ask about the situation, one of which is whether GameSeek expects to get enough stock to fulfil its pre-orders. GameSeek is one of the smaller online video game shops and simply can't compete with the likes of Amazon or GAME when it comes to securing Switch units from Nintendo UK.
Staley said he expects to get enough stock from Nintendo to cover pre-orders, but couldn't guarantee it.
"We do expect to get enough stock from Nintendo," he said, "after all we have been working with them now for 15 years. However we are, like other retailers, waiting for our allocations, so until we know what we are getting, we are not going to put the console back on sale.
"We are going to concentrate on fulfilling our existing pre-orders first."
So, even if you have paid GameSeek your £198.50 for a Switch pre-order, there's no guarantee you'll find one on your doorstep come 3rd March.
GameSeek is now faced with having to swallow the cost of selling 1000 or so Nintendo Switch consoles at a loss. Typically, margins are tight when it comes to video game consoles, with little money made by shops. Margins are bigger on software and peripherals.
"It's not easy," Staley said of the impending cost.
What is easy is to dismiss GameSeek's statement as little more than a relatively costly publicity stunt, but while Staley admits he hopes the move will boost his company's brand, he insists it was born out of a desire to do the right thing.
"A part of me wanted to cancel, but I just couldn't do it," he said.
"When the team asked me this morning it was difficult but I saw no other way. I couldn't bear the thought of telling them to send us more money.
"For what it's worth I am hoping we get some sort of goodwill for this as i know many other retailers wouldn't of done it."