Twitch is offering 21 free games to Prime members this month
Part of the Prime Day deals.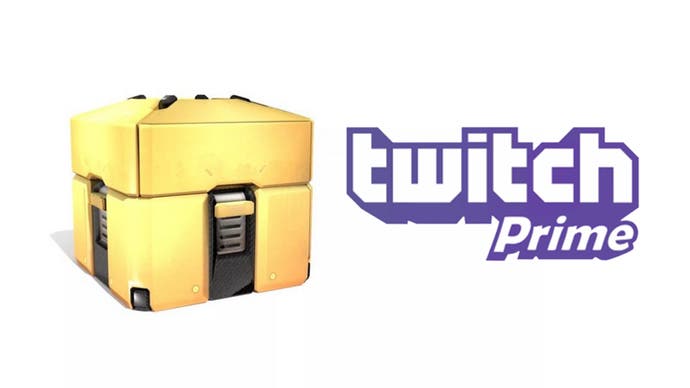 Update 04/07/18: New day, new game - as the list below indicates, today you can get your hands on copies of Metal Slug 3, The Last Blade, Twinkle Star Sprites and Q.U.B.E. 2, with Battle Chef Brigade being made available later on in the day. Not a bad haul, to be honest.
Amazon's continuing Prime Day deals continue to add up as well, with offers of a four-month subscription to Music Unlimited for 99p, 25 per cent off various Kindle, Fire and Echo accessories when using the code PD2018, and even some big US-based discounts on external hard drives, too.
As mentioned elsewhere in this article, we've got our own guide to the best deals of Amazon Prime Day right here on the site, with more constant updates.
---
Original post: As part of this month's Amazon Prime Day 2018 festivities, Twitch and Amazon are offering a whole batch of games to Prime members at no extra cost.
This marks the beginning of Amazon's Prime Day offers for this year, with more to come over the next two weeks as we approach the faux-holiday itself.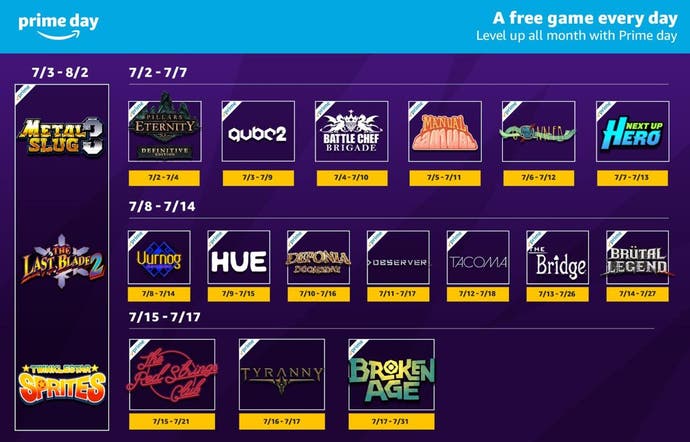 Starting right now, you can get yourself a Prime membership (which can be done here in the UK or here in the US), which will then get you a Twitch Prime membership and thus, access to a month's worth of games at no extra cost.
At the time of writing, you can get your digital mitts on a copy of Pillars of Eternity: Definitive Edition and each consecutive day of this month up to July 18th will open up a new title. The full list of games that will be up for grabs is right here:
Pillars of Eternity: Definitive Edition: July 2-4
Metal Slug 3: July 3 - August 2
The Last Blade: July 3 - August 2
Twinkle Star Sprites: July 3 - August 2
Q.U.B.E. 2: July 3-4
Battle Chef Brigade: July 4-11
Manual Samuel: July 5-12
Gonner: July 6-13
Next Up Hero: July 7-14
Uurnog Uurnlimited: July 8-14
Hue: July 9-15
Deponia Doomsday: July 10-16
Observer: July 11-17
Tacoma: July 12-18
The Bridge: July 13-26
Brutal Legend: July 14-27
The Red Strings Club: July 15-21
Tyranny: July 16-18
Broken Age: July 17-31
The Framed Collection: July 18-31
Serial Cleaner: July 18-31
Of particular note here are Tacoma, Observer and Battle Chef Brigade, all of which are relatively new releases that garnered good receptions on launch. Metal Slug 3 is just a classic and The Red Strings Club was one of my favourite adventure games of recent memory, even with its relatively short play time. Serial Cleaner, by the way, is a game about cleaning up crime scenes after various murders, which is all kinds of bizarre and troubling fun.
The rest of Amazon's Prime Day offerings will be going live in the next week, with the big day taking place on Monday, 16th July and lasting for 36 hours, thereby destroying all meaning of the word 'day'. If you're not already a Prime member, you can snap up a 30-day free trial in the UK or the US and take advantage of almost all the Prime Day deals without having to sign up for real.
We've got our best gaming deals of Prime Day 2018 page up and running already, which will be kept updated daily, so feel free to check out that article and bookmark it for all the best deals and such all the way through Prime Day season.