Travis Strikes Again: No More Heroes can be played entirely on one Joy-Con
Could this mean multiplayer?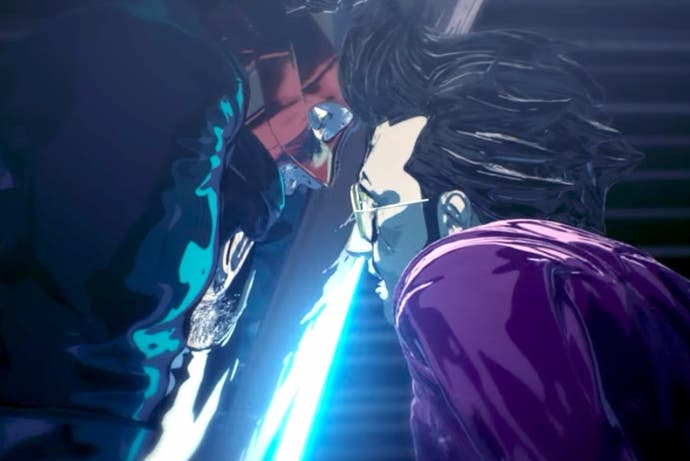 Travis Strikes Again: No More Heroes, the Switch-exclusive spin-off of Grasshopper Manufacture's action series about a geek with a lightsaber, can be played entirely with one Joy-Con.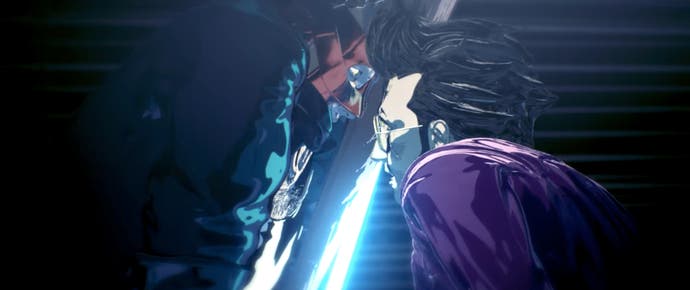 While the developer has remained tightlipped about how this upcoming entry will actually play, director Suda Goichi, aka Suda51, confirmed this more accessible control scheme to Eurogamer at PAX West 2017, suggesting a very different type of gameplay from its predecessors.
"One thing that I decided back at the very beginning, when we first started developing it, as far as gameplay and controls go, is that the entire game would be able to be played with just one Joy-Con," Suda told Eurogamer, via translator, in an interview.
Comparatively, the original No More Heroes games used the left analogue stick for movement while the Wiimote's motion controls were used for swinging your beam katana. Later PS3 editions offered a more standard control scheme that used buttons instead of motion controls, but constraining oneself to a single Joy-Con suggests that even this could be too ambitious for such a limited controller - though it is possible.
To put it in comparison, here's what's missing between a single Joy-Con and a standard gamepad: a second analogue stick, four face buttons in the shape of a d-pad, two shoulder buttons, and a final button activated by clicking that non-existent second analogue stick.
That's a lot to take out. But what's been added in?
While Grasshopper isn't talking about Travis Strikes Again's gameplay, Suda did say this about the project:
"It's still a bit early so we can't really comment completely on what kind of gameplay will be in the game, but one thing we can say is that like the previous No More Heroes games it certainly will be a sword action-type game, where the player feels good swinging that thing around."
The developer further noted that this time around Travis will be equipped with a Power Glove-like armament on his left hand called the Death Glove, though it's unclear what its purpose will be, beyond letting Travis leap into video games Tron-style.
The fact that the game is played with one Joy-Con, coupled with a teaser trailer that sees Travis transported into a video game console with rival assassin Badman, suggests a level of competitive, or possibly cooperative, multiplayer, but Grasshopper refused to confirm any multiplayer functionality at this time.
"While it certainly is a part of the No More Heroes series, one of the reasons there's no number in the title and that 'No More Heroes' comes afterwards is because it's still the same series, but it's not a direct sequel. It's more the beginning of a new adventure, of a new series for Travis," Suda stated. "Since it is the same game world, but just a different series, it will have some elements that carry over and it will also have some new elements as well, as far as gameplay goes."
This upcoming spin-off will be the first game Suda has directed in over a decade, with the last being the original No More Heroes in 2007.
Travis Strikes Again: No More Heroes will launch in 2018 as a Nintendo Switch exclusive.