Trailer for Insomniac's Fuse delayed
UPDATE: The video has been released.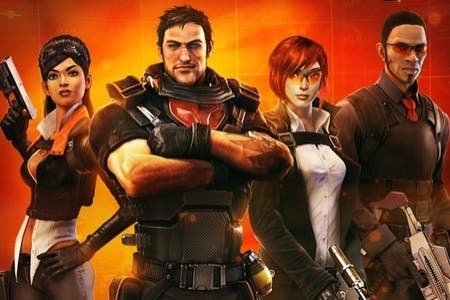 Update:The debut Fuse trailer is finally out. It reveals a visually clean but unspectacular shooter, but one with great guns and abilities.
A Magshield ability produced a bubbly wall for protection. Shattergun shot tendrils spikes up from the floor and froze/restrained an enemy who then shattered under fire. It looked like you can perform this on groups of enemies.
One application of Arcshot appeared to melt a group of enemies. The other application skewered them on flaming crossbow bolts. Warp Rifle produced mini gravitational warp fields/balls and then exploded.
You can also slide, punch and co-operate with other players.
Original story: Ted Price, the founder and CEO of Insomniac Games, has posted a message on the official site of the studio's upcoming action game, Fuse, to explain the absence of the first official trailer. The site had hosted a countdown which ran out at 6am, Pacific Daylight Time, on September 12th. That's today, you see. But no trailer appeared, leading to terrified panic, spiritual distress and disgruntled forum posts.
"We had an awesome trailer planned and finished. Unfortunately a last-minute legal rights issue has prevented us from releasing the trailer as planned," reads the message. "EA is trying to obtain the necessary approvals and we hope to bring the trailer to you soon. After discussing internally, we wanted to stop the countdown and explain what happened."
No further details are given on the delay, although from the wording it sounds like it could be an issue with clearances - possibly for music used in the trailer.
Curious fans won't have long to wait, as press previews and gameplay clips are still scheduled to start going live over the next few days.
Fuse began life as Overstrike, a four-player co-op action game, and the first multi-platform release from the previously PlayStation-exclusive studio. In August, the developer announced at PAX Prime that the game had been overhauled and retitled. This trailer was to have been our first look at the new and presumably improved version.