Tokido crowned Street Fighter 5 Evo 2017 champion
Battles through losers to defeat Punk in Grand Finals.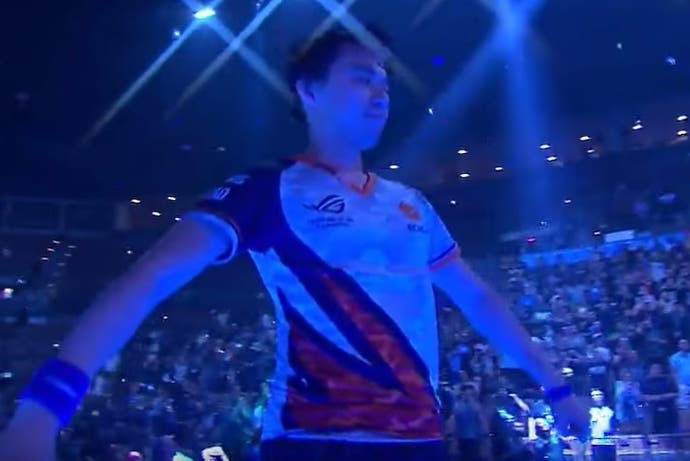 Veteran Japanese fighting game pro Tokido has won the Street Fighter 5 tournament at Evo 2017, battling through the losers side of the bracket to defeat the USA's Punk in a one-sided Grand Finals.
Using Akuma, 32-year-old Hajime "Tokido" Taniguchi beat Victor "Punk" Woodley, an 18-year-old from Philadelphia who uses Karin. Tokido went 3-1 to reset the bracket, then closed out Evo with a 3-0 over a clearly flustered Punk, cementing his place as one of the greatest fighting game players to have ever lived.
A combination of mix-ups, cross-ups and relentless pressure saw Tokido's Akuma overwhelm Punk's Karin in the end. He even had time for a taunt combo finish...
... and a Raging Demon super.
It marks Tokido's first mainline Street Fighter Evo tournament victory, having won Capcom vs. SNK 2 in 2002 and Super Street Fighter 2 Turbo in 2007.
Punk had been considered the best Street Fighter 5 player in the world going into the tournament, and one of the favourites for the title after a meteoric rise to the top of the fighting game pro world since the launch of the game in 2016.
Here's the top eight results for Street Fighter 5 at Evo 2017. It's worth noting that the top eight featured eight different characters - a situation highlighted by fans as evidence the game is in a good place balance wise.
1. FOX|Tokido (Akuma)
2. PG|Punk (Karin, Nash)
3. GGP|Kazunoko (Cammy)
4. DNG|Itabashi Zangief (Zangief)
5. Moke (Rashid)
5. Liquid|NuckleDu (Guile)
7. GRPT|MOV (Chun-Li)
7. SPY|Filipino Champ (Dhalsim)
All eyes now turn to the remaining tournaments in the Capcom Pro Tour, which culminates in the Capcom Cup at the end of the year.