This is what Stan Lee in the Spider-Man game looks like
"I'm just a living cartoon."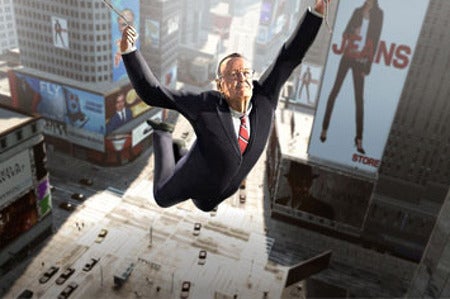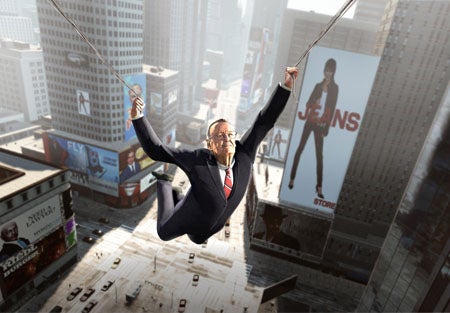 Activision has released an image showing for the first time Stan Lee as a playable character in the next Spider-Man game.
The comic book legend, 89, is a playable character in the Amazing Spider-Man, developed by Beenox and due out next month. In the US, he is a pre-order bonus with Amazon. In the UK, he is exclusive to GAME.
In the game Lee works much like Spider-Man, swinging from skyscraper to skyscraper. He has his own special mission, set in Manhattan, that sees the player track down a lost manuscript. You get some of Lee's "famous witty banter" too.
"I'm just a living cartoon," Lee told Yahoo. "I couldn't believe it when I got the call from Activision. Then they asked would that be OK with me, would I want to do it. I shouted, 'Of course!' It sounded sensational."
Apparently Lee had to do a photo shoot and lay do some voice tracks for the role. "I didn't know if they made me look more like Tom Cruise or Brad Pitt," he enthused. "It's hard to know, and it must be hard for them to pick the right image for me because how could you reproduce this [face] accurately in just a game?
"This wasn't easy for me, practising all these moves. I'm just afraid when they see me do it, that may put Spider-Man in the shadows. I hope they don't have me looking too realistic and life-like. That would be tough for the Spider-Man fans. I swung through the city like an average guy would do, instead of giving it my usual derring-do."
Lee, it seems, is delighted with Activision's superhero video games, which, he said, are "true" to the comic books.
"Every game Activision does, I am so impressed with the quality of it: the visuals, the sound, the imagination that they put into it," he said. "They are all true to the comic books, but they are all different enough from the comic books that it is a totally different experience."
He added: "I think Spider-Man is the best start I could have made. He's the greatest character. Of course, he is like me in so many wonderful ways," Lee said. "Even without me, it's a great game. Now that I am in the game, they have peaked."
UK specific pre-order bonuses, which are limited to the PlayStation 3 and Xbox 360 versions of the game, are below:
Amazon.co.uk: The Rhino Challenge. "Take control of the massive, genetically engineered villain Rhino and rampage around Manhattan in an exclusive gameplay challenge of pure destruction! As Rhino, players will be able to unleash his formidable powers to destroy anything and everything that gets in his way in a timed event full of speed, combo streaks, and of course, a ton of things to break!
GAME: The Stan Lee Adventure Pack. All the rumours can officially be put to rest - for the first time ever, fans will be able to play as... STAN LEE himself in The Amazing Spider-Man. Players will take on the role of Stan "The Man" Lee in his own special mission across Manhattan, borrowing abilities from his old pal Spider-Man as they help Stan collect pages of his latest script in a spectacular race around Manhattan. Stan's mission is punctuated with his witty banter that fans have come to know and love, and a special surprise waits for them at the end of the mission!
Independent retailers: Unlock The Oscorp Search & Destroy Pack. In the The Amazing Spider-Man video game, Spider-Man has his own smartphone to help navigate around Manhattan, locate missions and challenges and fight crime. With this pre-order special, Spider-Man's smartphone will feature two mini-games inspired by classic arcade experiences that can be played when not web-slingin' around Manhattan.