Sadistic indie platformer They Bleed Pixels now set for Steam rather than XBLIG
All you need is blood.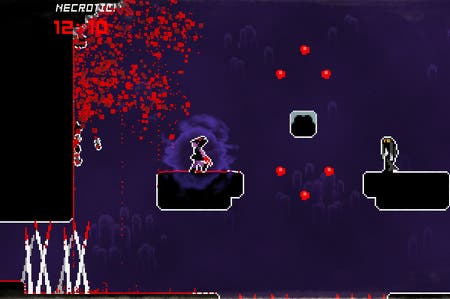 Violent platformer They Bleed Pixels has shifted development from XBLIG to Steam, indie developer Spooky Squid Games unveiled in the new trailer below.
Originally planned for release last summer, Spooky Squid spent the last year polishing it up and adding more levels and Steamworks features such as leaderboards, achievements and cloud saving.
Regarding the switch in platforms Spooky Squid creative director Miguel Sternberg explained, "Throughout development other game developers and players have told us that the game really deserves to reach a larger audience and the move to PC and Steam will do just that."
"For those waiting for the release date we're very close to being able to announce it. We're just finishing up sound and squashing a few pesky bugs. It's been a busy year and I think players will really appreciate the additional content and polish."
They Bleed Pixels tells the story of a young girl haunted by a cryptic tome and Lovecraftian nightmares. The new trailer shows off the wordless pixel art cutscenes.
Interestingly, checkpoints are not predetermined, but rather earned through stylish kills. "The more and better you kill, the faster you fill your checkpoint meter," said the official site. "Avoid combat or button mash mindlessly and you'll find checkpoints uncomfortably far apart."