Theme park sim Parkitect's second paid expansion Booms & Blooms is out this week
Fireworks! Fancy flora! Rowboats! More!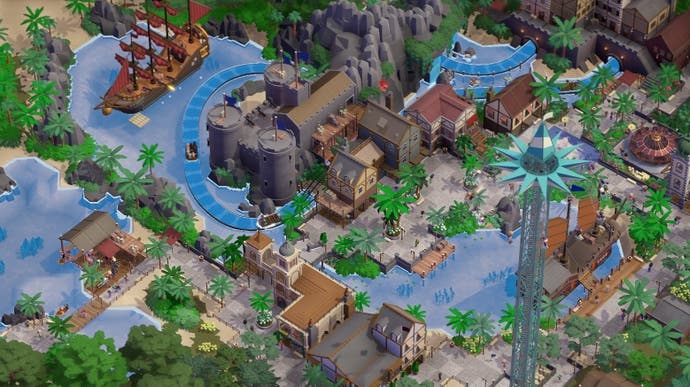 Developer Texel Raptor's superb theme park management sim Parkitect is upgrading its guest experience for the autumn season; from tomorrow, 2nd September, its newly announced Booms & Blooms expansion will bring fireworks sequencing, new rides, fancier flora, and more.
Booms & Blooms marks the second dollop of paid DLC to come to Parkitect, following on from last year's Taste of Adventure expansion, and introduces a range of customisation options enabling players to create parks with even greater degrees of personalisation.
Budding theme park moguls will, for instance, have the option to play their own music through a new speaker tool, or trigger their own sounds via the effects controller. Additionally, special effects can be synchronised to trigger in tandem with rides and it'll even be possible to create and sequence fireworks display to light up the night, as seen in the announcement trailer.
Elsewhere, Booms & Blooms introduces new trees options, custom flags, the Heartbreaker and Star Flyer thrill rides, three new rollercoasters - including the Steeple Chas - plus a rowboats ride. There's also a new track switch segment for the existing Mine Train and Junior rides, meaning park builders now have the option to reverse the direction of carts on a whim.
Booms & Blooms will cost $7.99 (around £6) when it comes to Steam on 2nd September, and it'll be accompanied by a free update for all players. The latter includes new basic shape variations, changes to existing tree types so they can be resized and recoloured, the ability to adjust the direction of spinning rides, and substantial performance improvements. A few more details can be found in Texel Raptor's announcement post.