Superb theme park sim Parkitect's Taste of Adventure DLC out next week
And there's a big free update coming too.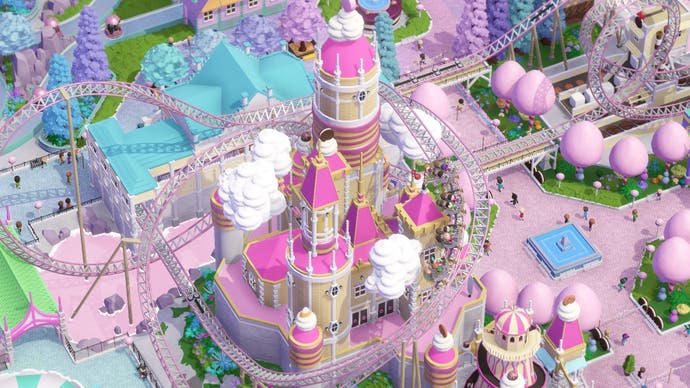 Developer Texel Raptor will be expanding on its already superb theme park sim, Parkitect, next week, with the arrival of the game's first paid DLC. It's called Taste of Adventure and launches on Wednesday, 20th November, alongside a big free update for all existing owners.
Taste of Adventure's big eye-catchers are the two new themed building and object sets, intended to add more variety to your burgeoning tourist attractions. Adventure features all the bits you'll need to craft a world of pulpy Indiana-Jones-esque thrills, complete with temples and an on-track jeep ride, while Candyland offers the tools to build a land of treats and sweets.
Joining the new scenery sets are a whole heap of new rides; there's the aforementioned jeep attraction (officially known as the Safari Ride), River Rapids - which includes freely placeable bumpers, rapids, and waterfalls - a Swinging Coaster, Vertical Spinning Coaster, Inverting Spinning Coaster, Inverting Wooden Coaster, plus two new flat rides - Experience and Clockwork. You'll find more information, plus images, in Texel Raptor's announcement post.
That's still not quite it either. Taste of Adventure also introduces four new shops - selling cookies, shirts, sub sandwiches, and corndogs - lava, to add a bit of mild peril to your park, animated doors and gates, customisable 3D text signs, plus turntables for the Water Coaster and elevators for the Wild Mouse, Spinning Coaster, and Swinging Coaster.
So that's the paid stuff. Texel Raptor says it will also be releasing a free update alongside Taste of Adventure that brings a range of new features to all existing owners.
The developer hasn't detailed everything as yet, but some of the big free additions include customisable water colours, custom image signs, improved staff zoning, mod support for custom coaster trains, track editor improvements, and the thing I'm perhaps excessively excited about: the ability to use all path styles for queues.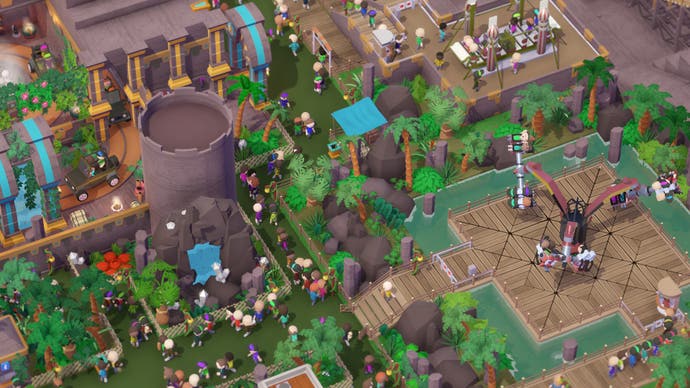 Texel Raptor says Taste of Adventure will cost $11.99 USD (around £9), and it'll be available on Steam, GOG, and the Humble Store when it releases next Wednesday, 20th November.
And if you haven't yet experienced the wonder of Parkitect for yourself, it comes highly recommended. It's a gloriously designed thing, expanding on the classic theme park sim formula with superb construction tools and smart management additions that genuinely enrich the familiar strategic core, all while still maintaining that heady whiff of nostalgia.