The Wonderful 101: Remastered now has a two-hour demo on Switch, PS4, and PC
And you can play as Wonder-Bayonetta.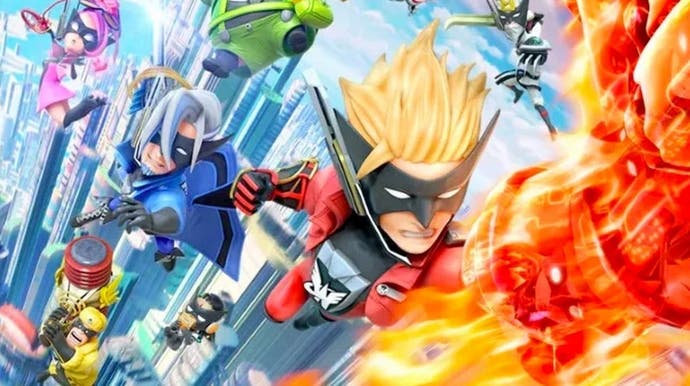 If you've yet to experience the chaotic splendour that is The Wonderful 101: Remastered but still remain sufficiently intrigued, developer Platinum Games is now offering a free two-hour demo of the game for PlayStation 4, Switch, and PC.
Available to download now, the new Wonder-Size Cadet demo (as it's officially known) features Wonderful 101: Remastered's complete prologue and Operation 001 - offering a reasonable introduction to the game's decidedly idiosyncratic isometric action, in which players command a screen full of miniature heroes, battling in unison.
In-game currency and support items are provided from the off in order to get the action moving, and all progress can be carried over to the full game, should you decide to make a purchase.
Those looking to add a bit of slinky pizzazz to their demoing also have the option to play as Bayonetta (or more specifically, Wonder-Bayonetta), who comes equipped with the Scarborough Fair Unite Morph ability, a Witch Time dodge, and more, and is ordinarily an unlockable secret character in the full game.
Accessing Wonder-Bayonetta the proper way is usually a bit of a challenge, given that it requires completing all in-game Achievements, but developer Platinum is now making her readily available to all players, by way of a code for the full game.
To use it, players first need to download The Wonderful 101: Remastered's new 1.03 update, which adds the Wonderful Code feature and aforementioned save game transfer option. Inputting Vol.1 UMBRANGIFT into the new code menu grants access to Wonder-Bayonetta, while Vol.2 ANGELSLAYERS unlocks her pals, Wonder-Jeanne and Wonder-Rodin.
"It's too anarchic, too messy and too unreadable in its combat, as well as too erratic in its execution," said Eurogamer's Martin Robinson of The Wonderful 101: Remastered earlier this year, "But then it's that anarchy that's key to The Wonderful 101's charm, and that runs through so much of the work of Hideki Kamiya. The Wonderful 101 is Platinum at its most imperfect, but I don't necessarily mean that as a slight. There's a real thrill to be found in all that chaos."