The six-year story of GTA Online's long-vacant casino
The most-requested, most-rumoured location in GTA5 finally opens its doors today. What took so long?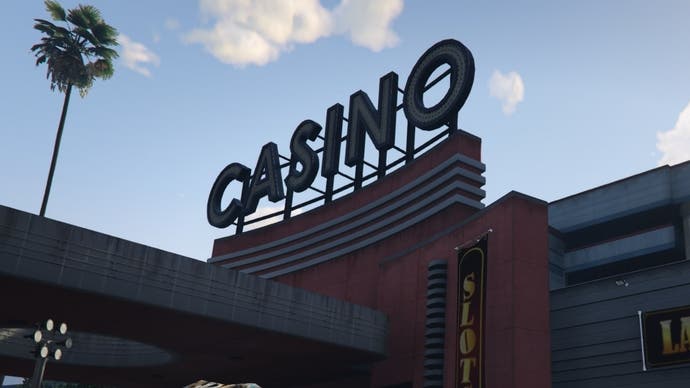 For Grand Theft Auto Online diehards, there is nothing more infamous than the Vinewood Casino. A rumoured playable location since players first got their hands on the game in 2013, I remember parking my busted Sultan on Mirror Park Boulevard and seeing the 'Opening Soon' banner for the first time - a beacon of hope back then for an ambitious multiplayer game that hadn't quite found its feet.
Since its inclusion, gumshoed players (myself included) have obsessed over this eerily quiet corner of Los Santos, searching for clues behind the scenes and lobbying Rockstar to put together a grand opening. Alas, much like that decaying lot you see each time you return to your hometown - nothing changed.
That was true until 6th June this year, when something extraordinary happened. During a routine weekly update, the once-legendary banner vanished, a selection of props changed location, and every corner of GTA fandom on the internet erupted in tandem.
After nearly six years of waiting, the Diamond Casino & Resort will land in GTA Online today, 23rd July, touting almost everything that fans had been clamouring for: high-stakes card games, penthouse suites, bottle service and even aircraft concierge. Yet this route from speculation to spectacle has not been as simple as it seems. In fact, the story is tangled up in years of GTA Online data-mining, lost single-player DLC, cowboys, zombies and an inevitable detour into gambling law.
I asked two veteran data miners within the GTA Online community, Tez2 and Yan2295, to help me unravel the community mythos behind what has now become The Diamond Casino & Resort.
It all started with the seemingly innocuous November 2013 Beach Bum update. Interior-starved fans had already latched onto the idea of opening the casino doors shortly after GTA Online launched in October, but our first concrete clues arrived in the form of leaked vocal snippets from online quest givers. "So listen, I just heard a casino opened up in town" says nervous heist master Lester Crest in the datamined audio, seemingly confirming that a gambler's paradise was on the way. It's worth noting that the Beach Bum newswire post also teased "exciting new Story Mode updates" coming "very soon" - back when the promise of single-player DLC for Grand Theft Auto 5 was still alive.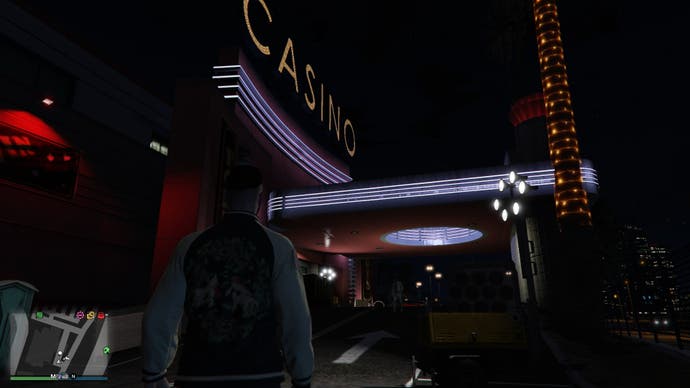 Turning the viscous plot into a thick porridge, Tez2 exposed some very important strings of code in early 2014 which tied a number of allusions to the casino to a potential three-pronged single-player DLC plan for GTA5, the individual parts tagged 'GTA', 'Trevor' and 'Dead' - the latter supposedly alluding to a zombie apocalypse expansion, with the datamined DLC selection menu checking for the tag 'SPZOMBIES', showcased best in this video from GTA YouTuber Chr0m3xMoDz.
"What Rockstar was planning to do with the single-player DLC can be compared to adding a whole new map expansion," said Tez. "They had plans to redesign 80 or 90 per cent of the map to fit a specific theme - one of the episodes was supposed to feature a zombie apocalypse. Rockstar would make changes to the whole map to fit the zombie apocalypse theme."
But enough about zombies, for the time being; we need to talk about Trevor.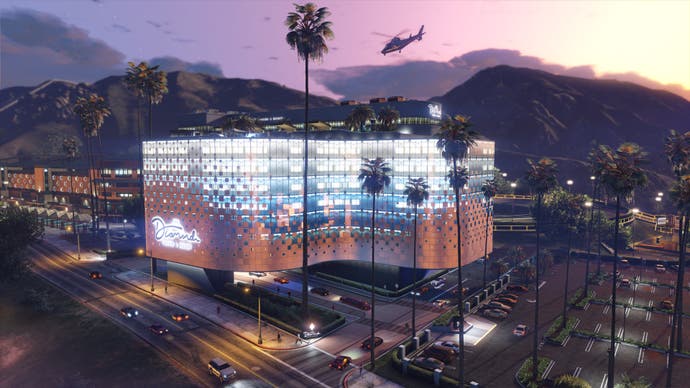 According to Tez, one of the episodes was "based on Trevor's story after the ending to Grand Theft Auto 5, in which he would work with the IAA." This tantalising spoke of the rumour mill then spun off its hub when even more strings of code came to light in 2015. In May of that year, Tez's post on the GTAForums read "The main characters will rob the casino", listing strings that, when decoded, alluded to Oceans 11-style setup, preparation and heist missions, the kind that would go on to become a smash hit in the Online part of the game.
It then took until 2017 for Rockstar to simply come out and say it. In an interview with Game Informer, director of design Imran Sarwar put the concept of single-player DLC to bed and laid many a dream to rest. Yan2295, who is now an ex-GTA leaker (at the request of Take-Two), offered the now widely believed explanation for the bait-and-switch. "The casino was supposed to come to GTA5 as single-player DLC as well as to GTA Online, but as many already know, the single-player DLCs got cancelled thanks to the success of GTA Online," Yan explained.
Tez believes that the leftovers of this bold expansion plan were eventually repurposed into content updates for GTA Online: "it turns out that most or some of the online updates that we received in 2017 and 2018 were based on the planned single-player DLC." Tez cites the Doomsday Heist update as a key example of this. While there's no casino, you work with the aforementioned IAA as part of the narrative, and it utilizes the malevolent 'Clifford' as its neural network antagonist - a name which cropped up during the 2015 casino leak.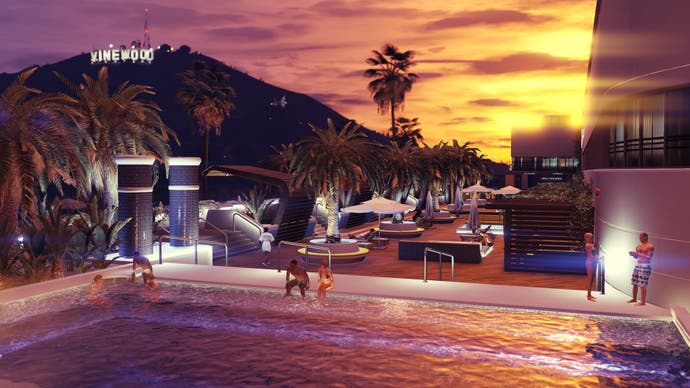 The narrative that suggests itself is that Rockstar made a shift away from single-player content add-ons to fleshing out GTA Online, which was swelling in popularity thanks to the Heists update and, of course, providing a remarkable amount of revenue via Shark Cards. This plan clearly worked: GTA5 became the most profitable entertainment product of all time in 2018, with over $6 billion raised since its release.
Yet this staggering feat is also what both of my sources believe to be the main cause of delays to the casino's implementation in GTA Online. How can you implement a realistic representation of gambling into a game that already offers microtransactions without falling foul of gambling legislation and getting the lawyers involved? The answer: its rootin' tootin' Wild West nephew, Red Dead Online.
"The casino update was canned since, because of Shark Cards, laws in some places would see that as online gambling, which is illegal in some of those places, especially considering many players are teens or kids," Yan explains. "But recently, they found a way to make it work, as we all saw gambling being added to Red Dead Online."
Tez echoed a similar sentiment: "In Red Dead Online's case, you use cash to gamble and you can purchase gold bars from microtransactions. The extra currency ensures there's a layer of safety for Rockstar from legal trouble, even though that doesn't apply to all regions or countries as some may have trouble with the existence of gambling itself - and not the way to acquire cash."
Rockstar has so far been tight-lipped about how its new currency will work, so how well its take on casino gambling will be received by GTA Online's fans is still up in the air.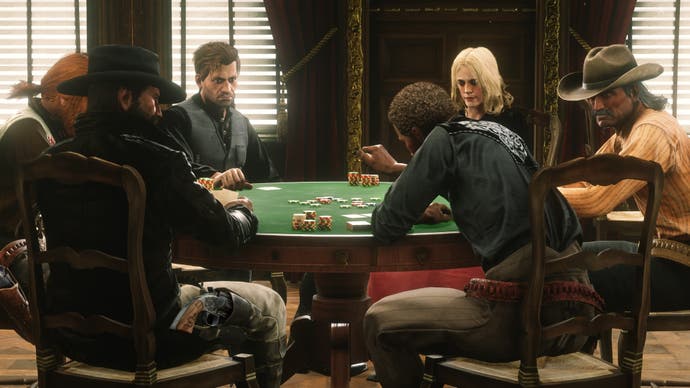 Even so, years of iteration, a cavalcade of forum discussions and months of code-trawling YouTube footage have led to this hotly anticipated moment. The question is, will it be worth it?
Rockstar seems to think so. From the Diamond Casino & Resort's tongue-in-cheek webpage copy:
"You've heard the rumours. You want to believe them, and there's only one way to find out. Abandon your preconceptions. Let go of your inhibitions, your doubts, your sense of proportion, your credit rating. The rumors didn't begin to do it justice."
Players have taken to eulogising the old Vinewood Casino on the GTAForums. Join them, won't you, in saying goodbye to this virtual landmark. And when you get the keys to your polygon penthouse, think about the wild story behind its almost six-year-long construction effort.