The Secret World update delayed until tomorrow
New video showcases new missions, rocket launchers and haircuts.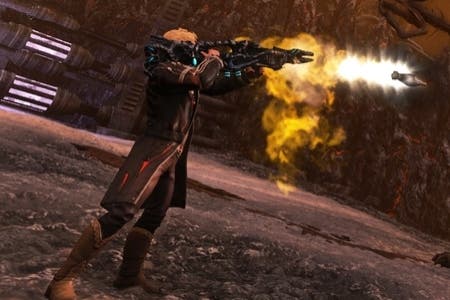 Digging Deeper, the second update for The Secret World, Funcom's spooky conspiracy themed MMO, has been delayed until tomorrow, September 13th. "Due to an issue found last night we decided to postpone the 'Issue 2' update to September 13th," read a message tweeted by the official Funcom account. "Today will be a maintenance downtime."
To help pass the time, Funcom has released a new video detailing all the additions heading towards players in the update. Lead Content Designer Joel Bylos introduces the new rocket launcher weapon, as well as the all-new auxiliary abilities it unlocks.
There's also Ockham's Razor, a wittily named barbershop in London where you can attend to your avatar's hair with a range of new dos, and The Modern Prometheus, a slightly less wittily named plastic surgery clinic in New York where you can change your face, just like Frankenstein. The update also boasts new investigation missions and lair action missions.
The Secret World earned a respectable 7/10 when Oli jumped in following its July launch. "It's not impossible that The Secret World will fulfil its potential," he concluded, "But as it stands, it's still a few steps short of being the saviour that massively multiplayer gaming so badly needs."