The Last Guardian media kit includes a heartfelt message from creator Fumito Ueda
"... we ran into a few twists and turns along the way…"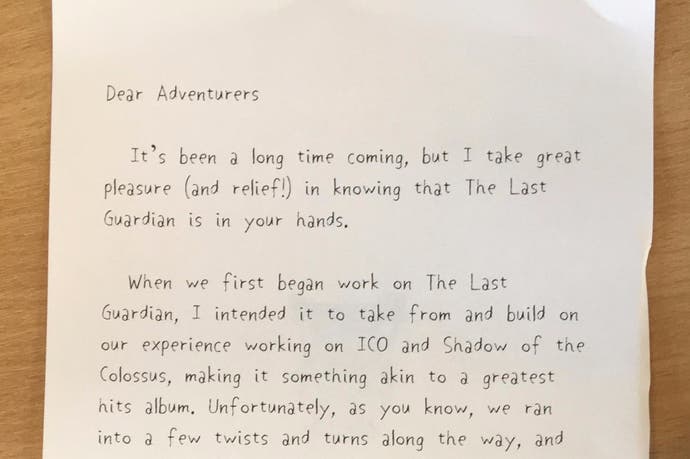 Fumito Ueda has penned a heartfelt message to The Last Guardian players, which Sony has bundled with the game's media kit.
The media kit, delivered by publisher Sony to Eurogamer yesterday but under embargo until this morning, includes a note from The Last Guardian designer and director Ueda about the game that began development a whopping nine years ago. (There's a feather in the media kit, too!)
The message, republished below, references the development turmoil that saw The Last Guardian move from a PlayStation 3 game onto PS4.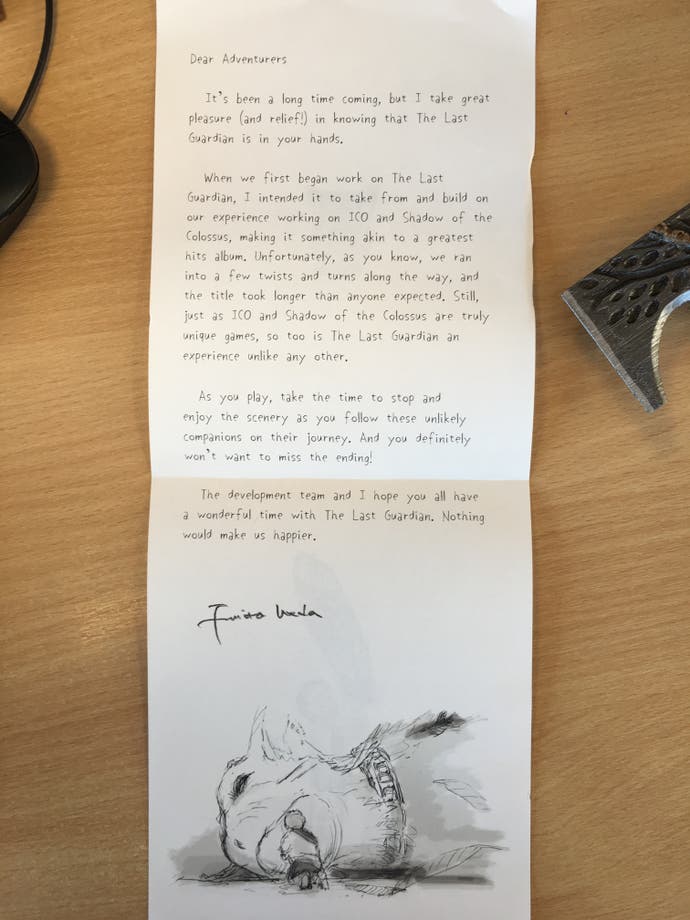 But it ends with a word of advice: as you play, admire the scenery, and watch out for the ending.
First leaked in a trailer shortly before its official unveiling at E3 2009, The Last Guardian has had one of the most storied and troubled developments of any game in recent history.
In 2011 executive producer Yoshifusa Hayama left the project and Ueda himself departed from Sony, though he said he'd remain committed to the project on a freelance basis.
The game went on hiatus and word of its progress went dark for so long that it became a running joke to ask Sony executives about its status at trade shows E3 and Gamescom.
The Last Guardian eventually resurfaced at E3 2015, now as a PS4 game. Eventually it saw one last final delay, but it's since gone gold and is now firmly on track for its 9th December release.
Earlier in November, Martin interviewed Fumito Ueda, who said "never in my wildest imagination did I think The Last Guardian would take this long". It's well worth a read.