The Hidden Ones serves up another mouthful of Assassin's Creed Origins - but little else
I would walk 500 Niles.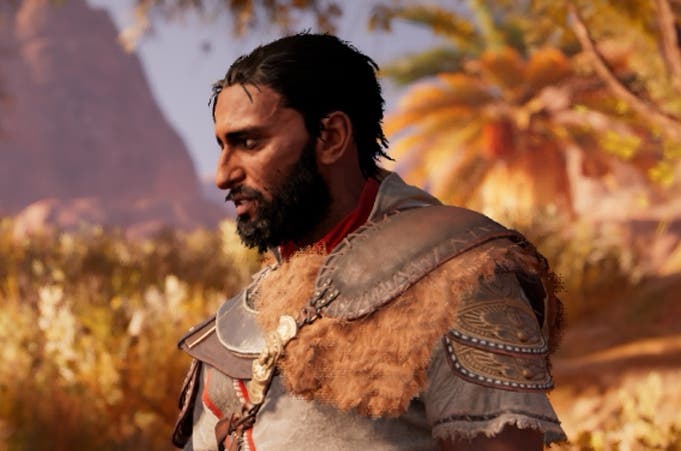 Spoiler warning: This article discusses the ending of Assassin's Creed Origins.
With Bayek and Aya, Assassin's Creed Origins' husband and wife duo, Ubisoft is on to a very good thing. The main game's best story moments occur when the two interact, when they are allowed time to live on screen as a mature, authentic couple. But it's a difficult balancing act, because the meat of a typical Assassin's Creed game is seen through the eyes of one character - the series' stereotypical roguish loner who roams rooftops righting wrongs single-handed, while looking moody in a hood.
Origins plotted its way around Aya and Bayek's relationship by finding excuses to send Bayek off alone, by giving him jobs to do while Aya was off-screen doing other things, and sometimes - just sometimes - by letting you see what she was up to as well. Until, that is, the game's rather abrupt ending - when Aya, newly rechristened Amunet, ditches Bayek for good to oversee a new chapter of the fledgling Assassins in Rome. (Fans were not pleased at Baya's breakup.)
I wanted more of Aya/Amunet in The Hidden Ones, Origins' first story expansion, set several years after the events of the main game. I also wanted to feel some development of the Assassins' origins - which is, after all, what the game's title promises. The Hidden Ones gives a morsel of both, but nothing which genuinely moves either storyline on. Finishing the expansion's main story campaign, I got the sense this was one of those add-ons whose story was held back by a need to not do or say anything too dramatic, should those who failed to turn up feel left out when coming back for the next proper instalment. (While a straight sequel to Origins has yet to be confirmed, there are enough hanging plot threads that anything else right now would feel a waste of its world and characters.)
Considering the ending of Origins, The Hidden Ones does allow Amunet a fan-pleasing amount of screentime, as she briefly reunites with Bayek to sort out the Assassins in the struggling Sinai region. There are the briefest of hints as to what she's been up to - and of who the latest power struggles are between, which may point towards a future sequel - but no new opportunities to play as her, or any fresh story details to expand on the shadowy Order of the Ancients, either. Neither are there any new gameplay capabilities - something which would have made some narrative sense now the Brotherhood has been established. Alas, there's no way to call your new hooded allies into battle, or send them off on specific missions as in past games.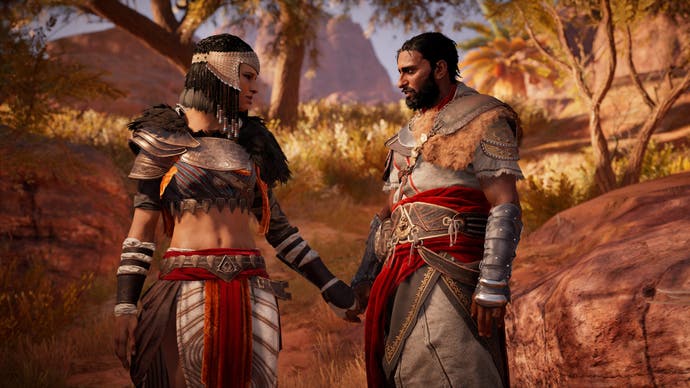 But while new features are hard to come by, The Hidden Ones does not skimp on providing more of what Origins already does so well. There are lengthy, intriguing side-quest chains where you get to spend more time with Bayek as he - and you - discover more about this marvellous ancient world Ubisoft has cooked up, and at least one of these storylines acts as a surprising coda to a section of the main game. There's a small level cap bump up to 45. There are new treasures, outfits and ridiculous horses to track down. And there's a couple more of those roaming asshole bosses whose warning klaxon still sets me on edge.
Map-wise, there's another city to stomp around, another desert, another bit of sea. There are more mountains to climb, so you can then spend half an hour fiddling with the game's camera mode and Instagram filters while catching the perfect snapshot. There are dozens of new enemy forts for you to slink through and er, silently mass murder everyone. One mission in particular leads you through probably the largest enemy stronghold in any Assassin's Creed.
It's expected stuff, then, with more than a whiff of a kitbash, and after the main game's 100 hour banquet it's fair to question who exactly needs more - to which I'd point to the fans who just successfully petitioned Ubisoft for a new game plus so they can play through that same 100 hour meal once more.
Origins' second and final expansion, The Curse of the Pharaohs, is set to be a larger affair, a full-on fantasy romp in another new patch of map. So if this is all we get of Bayek and Aya's relationship for now, I'll take it - although it is a shame The Hidden Ones wasn't bolder in its design.