The three times EA mentioned Mass Effect: Andromeda in its financial results
A good cadence?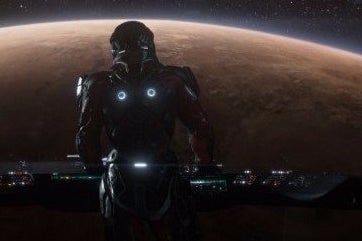 Mass Effect Andromeda came out at the end of March, with launch week sales stuffed into EA's 2017 financial year. As such, it was too early to tell how well the game would sell over time.
Last night, EA revealed its sales results for the first quarter of this financial year (April, May and June 2017). The stage was set for EA to finally talk sales numbers. But, perhaps unsurprisingly, it did not do so.
Andromeda launched to underwhelming reviews and a fan backlash. How did EA spin things? Turns out, after downsizing Mass Effect Andromeda satellite studio BioWare Montreal and reportedly putting the franchise on ice, the publisher simply decided not to bring it up.
The blockbuster series got three brief mentions throughout the hour-long briefing.
EA exec Blake Jorgensen mentioned Andromeda in the context of year-on-year growth in the quarter, alongside continued healthy sales of FIFA.
Jorgensen also said Andromeda was a "significant contributor" to digital sales, and then again to specifically identify full game PC and console downloads as being higher year-on-year.
And that's it. No mention of sales numbers, DLC, or the future of the franchise.
Compared to Mass Effect's three mentions, Battlefield was mentioned 20 times. Madden was mentioned 36 times. FIFA was mentioned 41 times.
Exec-favourite word "cadence" was mentioned five times ("I think we like our regular cadence. I think we've found a good cadence"), almost double that of Mass Effect.
What will the cadence of Mass Effect be now?