The Crew 2 is free to play this weekend on PC
With discounts on PC and PS4.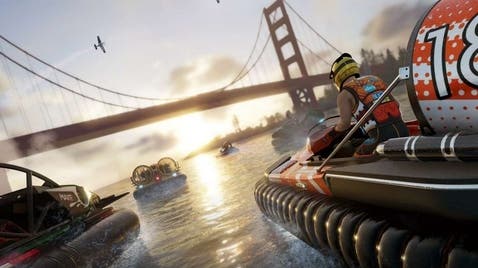 Ubisoft's first free update for The Crew 2, known as Gator Rush, is now live on Xbox One, PS4, and PC. And to celebrate, the open-world multi-vehicle racing game is free to play on PC for the duration of this weekend.
As previously announced, Gator Rush's additions are predominantly themed around The Crew 2's new hovercraft racing discipline. There are five hovercraft to purchase using in-game credits, 20 new activities on the map - including new Hypercar, Touring Car, and Jetsprint events - plus a new Ace difficulty mode and the Legendary part rarity.
All that, of course, comes on top of The Crew 2's core launch content, which spiced up its predecessor's racing template by adding new water- and air-based vehicles to the original line-up of more traditional two- and four-wheeled racers.
If you fancy putting any of that to the test, The Crew 2's free weekend is now underway and runs until 9pm BST on Sunday, September 30th (other timezones can be found on here). It includes the entire map, as well as all events and vehicles present in the full game. To get in involved, you'll need to download The Crew 2 via Uplay on PC, and Ubisoft says all progress and vehicles will carry over to the full game, should you decide to upgrade.
As an extra incentive to do so, the publisher is offering 45% off The Crew 2 on PC via the Ubisoft Store and on PS4 via the PlayStation Store for the duration of the event. While the sale is on, you can pick up the standard version of the game on PC and PS4 for £27.49/$32.99 USD - and other fancier editions are discounted too.
Ubisoft previously revealed plans to release new updates as part of The Crew 2's Year 1 season roughly every three months. A new PvP mode will arrive as part of the game's second major free update in December.